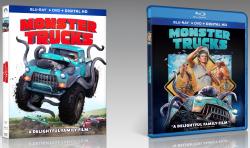 MONSTER TRUCKS

"A delightful family film"
- Andy Webster, New York Times

Hilarious and Heartfelt Family Film Hits the Road Just in Time for Easter on Blu-ray™ Combo Pack April 11

Get ready for "big, big fun" (Max Evry, Coming Soon) when the "perfect family film" (Mike Reyes, Cinemablend) MONSTER TRUCKS revs up on Blu-ray Combo Pack April 11, 2017 from Paramount Home Media Distribution. Get in the driver's seat two weeks early with the Digital HD release on March 28.

Tripp is a high school senior with a knack for building trucks who makes an incredible discovery - a gas-guzzling creature named Creech. To protect his mischievous new friend, Tripp hides Creech under the hood of his latest creation, turning it into a real-life super-powered Monster Truck. Together, this unlikely duo with a shared taste for speed team up on a wild and unforgettable journey to reunite Creech with his family. A fun-filled adventure that never slows down, MONSTER TRUCKS features a terrific ensemble cast including Lucas Till (X-Men: Apocalypse), Jane Levy (Don't Breathe), Thomas Lennon ("The Odd Couple"), Danny Glover (Lethal Weapon), Amy Ryan (Central Intelligence) and Rob Lowe ("Parks and Recreation").

A perfect family Easter gift, the MONSTER TRUCKS Blu-ray Combo Pack features over 40 minutes of action-packed behind-the-scenes bonus content. Take a look under the hood and discover the magic behind MONSTER TRUCKS with interviews from cast and crew, deleted scenes, a hilarious gag reel and much, much more! Plus, the Blu-ray Combo Pack includes collectible MONSTER TRUCKS wall decals, for a limited time while supplies last. The film also boasts a Dolby Atmos® soundtrack* remixed specifically for the home theater environment to place and move audio anywhere in the room, including overhead.

Special Features:

• Feature film in high definition
• Bonus Content:
• Who's Driving the Monster Trucks?
• The Monster in the Truck
• Creating the Monster Truck
• Gag Reel
• Deleted Scenes
• Production Diaries

http://www.MonsterTrucksMovie.com/

Enter to win!

Thanks for visiting EDGE!
Enter this contest
If you already have an account with EDGE, all you need to do is log in; we'll pull your address information from your account and simply ask you to verify it. If you do not yet have an account with us, register now! It's easy and free, and you'll never have to type in your personal information again. If you prefer to enter this information manually, you can use the manual entry link below.
Register
Manual Entry
Click here for contest rules.
* Please be aware that creating multiple accounts for the same person will disqualify you.