American Reunion
Thirteen years ago I went to a sneak preview screening of a "coming of age" film that promised to be a warm and truthful examination of teenagers. At the time I was a big fan of "Dawson's Creek" so I thought I'd be getting a nice dose of angst and introspection when I went to see "American Pie." Needless to say, that's not quite what I got. I thought it was juvenile, irresponsible, and sophomoric. Yet, for its core audience, it succeeded in spades.

I never saw any of the follow-ups - not the sequels with original cast, nor the straight to video adventures that have strayed from the originals. So it was with trepidation that I ventured into "American Reunion" - hoping that like the characters in the original film, the series itself had grown up. I'm pleased to say, they kinda' have.
"American Reunion" imagines a ten-year class reunion that oddly takes place thirteen years after the teens from the original graduated. While there were nine core characters, six take the forefront here with good-guy Jim (Jason Biggs), sweet and kinky Michelle (Alyson Hannigan), good-hearted Oz (Chris Klein), passive Kevin (Thomas Ian Nicholas), successful smarty-pants Finch (Eddie Kaye Thomas) and cluelessly obnoxious Stifler (Seann William Scott) who all meet in their old home town for the reunion. Jim and Michelle are happily married with a kid, but their sex life has taken a turn for the mundane. Oz is a sportscaster in Los Angeles with a vapid girlfriend (Katrina Bowden), Kevin is a married stay-at-home architect, Finch is a successful world-traveler, and Stifler is an office temp who can't seem to break free from being a man-child.

When they all get together, the first thing they notice is how old they've become, how much they've grown up, and how the things that got them off as teenagers don't hold the same interest for them anymore. Things like playing pranks and causing mayhem don't seem as thrilling anymore, they just seem like a lawsuit waiting to happen. That doesn't mean that they all won't fall off the wagon - especially when the main guys decide that this weekend will be their last chance to let loose and party like it's 1999.
The first sign of trouble is when Jim spots the girl next door that he used to babysit. Now a hot high-school senior, she targets him as the one man that should take away her virginity. Before you know it, Jim is driving her home from her eighteenth birthday party as she drunkenly takes her clothes off and tries to seduce him. Meanwhile, Kevin has gotten drunk and reconnected with old flame Vicky (Tara Reid) which leads to a morning rise-and-shine that has them both naked in bed together.

Similarly, Oz has run into the object of his high-school affections Heather (Mena Suvari), who has arrived into town with her heart surgeon boyfriend. This brings to the surface long gestating feelings that have failed to dissipate. Finch, on the other hand, connects with Selena (Dania Ramirez) a former fat girl who might look like a model on the outside, but is just as nerdy as he on the inside. Lastly, Stifler continues to watch on confused as his friends resist the temptations of their former lives while all he wants to do is continue the party. His most hilarious realization of this is when he decides to have a house party and everyone shows up in his or her finest business casual, drinking wine and listening to jazz.

Rounding out the myriad of stories is Jim's dad (Eugene Levy) who still mourns the loss of his wife three years earlier and has yet to take a step into finding someone with whom to spend time. And of course there's Stifler's mom (Jennifer Coolidge) forever lounging casually in her study and falling out of her blouses.
As with any "American Pie" movie there is the requisite gross-out gags (this time involving a masturbation sock and a toddler) and there is absolutely nothing surprising in the proceedings. What doesn't work is the odd mix of sophomoric humor and genuine issues and emotion that never quite mesh. The surprise here, however, is how well some of those issues and emotion do work.

We've all seen movies about late twenty-something and early thirty-something people trying to reclaim their youth. "Young Adult" is the most recent and most dark example of this. What's interesting in the case of the "American Pie" gang is that we've kind of grown up with them. Having the same characters and cast works well because we know what they were like when they were young. We experienced the juvenile antics from the original film, and now, to see the same characters looking back on their lives and saying, "Wow! We were obnoxious assholes" is not only truthful, it's refreshing. This is an honest-to-goodness "realistic" look at how people grow up and mature - how they look back fondly on their teenage years, but also quickly realize how they'd never want to go back. There is an underlying sadness to watching youth disappear, and in the faces of the cast, you can feel the pain and regret of getting older.

A post-modern-esque aspect of this (I know, that's the last term you'd expected me to use) is that we've also seen some of these actors go through the ringer in their personal lives. Tara Reid was tabloid fodder for years as a result of her hard-partying ways. Here she is not only gorgeous, but also looks better than she ever did. Chris Klein - who was set to be the next leading man - crashed and burned into alcoholism and drugs, but here has emerged clean and sober and as handsome as ever. So it's not only watching the characters they played as teenagers grow up, it's also watching the actors themselves grow up. And there's something genuinely moving about that.

Don't get me wrong, "American Reunion" is no masterpiece. Some of it is stale, a lot of it is obvious, and half the cast seems to have forgotten how to actually act. But as much as I hated the original and never really cared about the characters, I found "American Reunion" to be strangely charming and weirdly nostalgic. As dumb as some of it is, I was entertained. I guess it would have been weird for them to go full-tilt on making it a true examination of life thirteen years after high-school, but for what this series was and has been, writer/directors Jon Hurwitz and Hayden Schlossberg have ended the series in a heartfelt and respectful way. Whether there is more life in the" Pie" remains to be seen, although there did seem to be a nod to a possible Stifler spin-off when two gay friends ask him to plan their nuptials. "American Gay Wedding" anyone???
American Reunion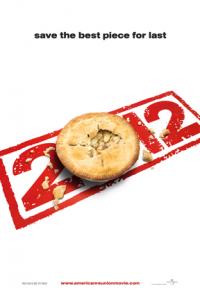 Info
Runtime :: 112 mins
Release Date :: Apr 06, 2012
Language :: English
Country :: United States

Kevin Taft is a screenwriter/critic living in Los Angeles with an unnatural attachment to 'Star Wars' and the desire to be adopted by Steven Spielberg.
Comments on Facebook