South Florida Gay News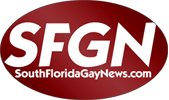 The South Florida Gay News.com celebrates the lives of South Floridians with daily news briefs and storied features, breaking news and lifestyle profiles. Check out their website at southfloridagaynews.com.
In a new case from Lambda Legal, a federal court issued a decision requiring Florida to acknowledge whether a deceased individual was married to a same-sex partner and list said partner as a surviving spouse.
The annual National Survey of Older Americans Act Participants (NSOAAP) will not seek to identify individuals based on sexual orientation or gender identity, the Administration on Aging revealed this week.
Understand what a Mezuzah means and more on Sunday during a project presented by Congregation Etz Chaim. The gathering is from 3 to 5 p.m., March 26, inside Pride Center's building B at Equality Park in Wilton Manors.
LGBT journalists, bloggers, and other professionals will gather March 23-26 in Orlando for the 7th annual #LGBTMedia convention.
The workshop was titled "Vodka, Meth, Sex...Lipitor?!: Over 40 (or 60) & Still Partying?" It was moderated by Bruce Williams, director of senior services at Pride Center.
At this year's Human Right Campaign spring convention tensions were high against President Trump and his cabinet in light of their actions against the LGBT community.
On Monday, the United States Department of Justice announced it will give $8.5 million to Florida to aid Pulse Nightclub victims, first responders and witnesses.
The Broward Sheriff's Office released a statement last week claiming two men dressed up as women robbed Sam's Subs and Check Cashing in Pompano Beach.
For Larry Kramer, it's the 80s all over again and Donald Trump is the second coming of Ronald Reagan.
Florida Governor Rick Scott expressed his heartbreak for the victims and families of the Pulse Nightclub shooting in his State of the State Address on Tuesday. He did not, however, go into specifics on who exactly those victims were.