Top Story
So much for those worries about rising interest rates.
1 thru 10 of 12226 Stories
A majority of Americans favor stricter gun laws, and most believe places of worship and schools have become less safe over the last two decades, according to a new poll conducted by The Associated Press-NORC Center for Public Affairs Research.
New York state's ban on personal ownership of stun guns is unconstitutional, a federal judge ruled Friday in the latest in a series of court decisions that have led to the loosening of restrictions on the weapons in several states.
Trump misrepresented McCain's record on matters stretching from McCain's school days to his funeral, as he went on a tear about the late Arizona senator, Republican presidential candidate, Vietnam War naval aviator and tortured prisoner of war.
President Donald Trump signed an executive order Thursday requiring U.S. colleges to protect free speech on their campuses or risk losing federal research funding.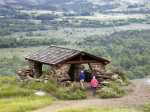 Parties involved in a dispute over whether North Dakota regulators should be involved in the siting of an oil refinery near Theodore Roosevelt National Park have filed their initial legal arguments in state court.
British Prime Minister Theresa May is easing away from plans to hold a third vote on her troubled Brexit withdrawal plan as protesters gathered in central London on Saturday to demand a second referendum.
None of these is legit, even though they were shared widely on social media. The Associated Press checked these out. Here are the real facts.
The Kansas chapter of the American Civil Liberties Union asked state officials to investigate after a black man was detained by police while moving into his home, then allegedly harassed for weeks.
A judge blocked oil and gas drilling across almost 500 square miles (1,295 sq. kilometers) in Wyoming and said the U.S. government must consider climate change impacts more broadly as it leases huge swaths of public land for energy exploration.
Prime Minister Theresa May used to promise "strong and stable" government. Fellow EU leaders used to believe her. But then came almost three years of Brexit missteps and mayhem.
1 thru 10 of 12226 Stories