Every year, thousands trek to a mountainside in Venezuela for rituals played out with fire, blood and smoke to pay tribute to the indigenous goddess Maria Lionza, who is revered across the crisis-stricken South American nation.
The 2019 Nobel Prize in economics was awarded Monday to Abhijit Banerjee, Esther Duflo and Michael Kremer for pioneering new ways to alleviate global poverty.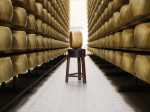 U.S. consumers who appreciate the tang of aged Italian Parmesan cheese as an aperitif or atop their favorite pasta dish are stocking up ahead of this week's tariff hike and as dairy producers in the two countries square off.
FEMA buys flood-prone homes more often in wealthy, populous counties than in poor, rural areas, even though lower-income rural areas may be more likely to flood frequently, a new study finds.
Imagine discovering that your newborn's brand new Social Security number has already been used to construct what Eva Velasquez, president and CEO of the Identity Theft Resource Center, calls a "Frankenstein monster of identity."
Nobody lives as closely with the environmental fallout of Venezuela's collapsing oil industry as the fishermen who scratch out an existence on the blackened, sticky shores of Lake Maracaibo.
Whether it's an Ivy League college or a high-priced "dream school," too many people believe certain educations are worth endless effort, stress — and debt.
President Donald Trump on Thursday minimized the ongoing threat of the Islamic State and overstated his economic success, declaring inaccurately that China would have overtaken the U.S. as the world's largest economy if he wasn't president.
Heads of states, CEOs and global health leaders gathered Thursday in France to try to raise at least $14 billion to finance the fight against AIDS, tuberculosis and malaria over the next three years.
Hyperinflation is changing prices so quickly in Zimbabwe that what you see displayed on a supermarket shelf might change by the time you reach the checkout.