A Japanese cryptocurrency exchange has reported a hack causing the loss of 3.5 billion yen, or $32 million, worth of virtual money.
France will introduce a new charge on plane tickets from next year, with revenue used to fund environment-friendly alternatives, the country's transport minister said Tuesday.
Congress might need to extend the government's crucial ability to borrow money before leaving the Capitol for its August recess, Trump administration officials said Wednesday.
Shares rose Thursday in Europe and Asia, tracking gains on Wall Street after Federal Reserve Chairman Jerome Powell suggested the U.S. central bank is ready to cut interest rates for the first time in a decade.
When Gazans think of better economic times, images of clay pottery, colorful glassware, bamboo furniture and ancient frame looms weaving bright rugs and mats all come to mind.
Every sentence Federal Reserve Chairman Jerome Powell speaks to Congress this week is sure to be parsed by investors who expect — and hope — the Fed will cut interest rates later this month for the first time in a decade.
Wyoming coal workers who were locked out of their jobs after a company filed for bankruptcy protection are wondering whether they'll ever be called back to work.
Nearly one-quarter of Americans say they never plan to retire, according to a poll that suggests a disconnection between individuals' retirement plans and the realities of aging in the workforce.
Ray Robertson's debt-payoff journey involves two fateful conversations across the ocean from where he grew up.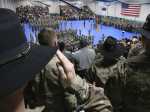 While overseas or in a combat zone, service members don't have much time to focus on finances. Here are five important money lessons all deployers — and their dependents — should know.