Nissan is recalling nearly 308,000 vehicles in the U.S. to replace dangerous Takata air bag inflators that can explode and hurl shrapnel.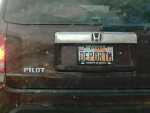 Utah lawmakers want to know how a license plate with the phrase "DEPORTM" got approved despite state rules against expressing contempt for any race, religion or political opinion on vanity plates.
The new mid-engine Chevrolet Corvette won the North American Car of the Year award on Monday. The Kia Telluride took Sport Utility of the Year honors and the Jeep Gladiator won the Truck of the Year Award.
Toyota is recalling nearly 700,000 vehicles in the U.S. because the fuel pumps can fail and cause engines to stall. That can increase the risk of a crash.
Uber said Friday it will stop operating in Colombia following stiff opposition from taxi drivers' unions and a lawsuit that said the ride-sharing app was breaking local transport laws.
The Highland Green 1968 Ford Mustang GT featured in the film "Bullitt" was sold Friday at a Florida auction house for $3.74 million.
Takata is recalling 10 million more front air bag inflators sold to 14 different automakers because they can explode with too much force and hurl shrapnel.
The U.S. government's road safety agency is sending a special team to Indiana to investigate a fatal crash involving a Tesla electric vehicle.
The Trump administration on Wednesday unveiled its most recent round of guidelines for autonomous vehicle makers that rely on voluntary standards despite calls for specific regulations.
Tesla's Shanghai factory delivered its first cars to customers Monday and chief executive Elon Musk said the electric automaker plans to set up a design center in China to create a model for worldwide sales.