1 thru 10 of 6986 Stories
President Donald Trump took to Twitter Thursday to react to the latest developments involving "Empire" star Jussie Smollett.
Chicago Police Superintendent Eddie Johnson took it personally when detectives determined that "Empire" actor Jussie Smollett allegedly lied about being the victim of a racist and homophobic attack .
The studio behind the hit television show "Empire" says it is "evaluating the situation" regarding the charges against actor Jussie Smollett and is "considering our options."
"Empire" actor Jussie Smollett "took advantage of the pain and anger of racism to promote his career" when he made a false police report about an attack in Chicago, the city's police superintendent said Thursday.
Twitter is reacting to the news that Ariana Grande and Piers Morgan have seemingly ended their feud after having an impromptu dinner date together.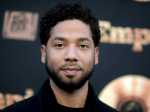 "Empire" actor Jussie Smollett turned himself in early Thursday to face accusations that he filed a false police report when he told authorities he was attacked in Chicago by two men who hurled racist and anti-gay slurs at him.
The brothers, identified by Schmidt as Abimbola "Abel" Osundairo and Olabinjo Osundairo, are of Nigerian descent. But they told a reporter at CBS2-Chicago that they were "born and raised in Chicago and are American citizens."
Who's the best wing woman on the planet? That would be Malika Haqq.
Chicago detectives suspect that "Empire" actor Jussie Smollett filed a false police report when he said he was the victim of a racist, homophobic attack in downtown Chicago late last month, a police official said Wednesday.
Actress Gwyneth Paltrow denied Wednesday that she skied into a man who accused her in a lawsuit of seriously injuring him at a Utah ski resort, alleging in a counter claim that the man actually plowed into her from behind and delivered a full "body blow."
1 thru 10 of 6986 Stories