1 thru 10 of 7452 Stories
Felicity Huffman's co-stars in a new Netflix movie say they found her remorseful about her role in a college admissions scandal.
Lawyers for Jussie Smollett on Friday filed motions contending that because the actor was the victim of an attack earlier this year in Chicago a judge should reverse his decision to appoint a special prosecutor.
Pam Grier's role as the owner of a hardware store in rural Nebraska in the ABC sitcom "Bless This Mess" isn't a complete departure for the film legend.
Urged on by the first lady and celebrities including Kanye West and Kim Kardashian West, President Donald Trump said Friday he is trying to help free rapper A$AP Rocky, who has been held in police custody in Sweden for weeks.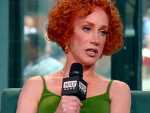 As if fallings out and feuds with CNN's silver fox and the president of the United States weren't enough, Griffin is also on the outs with lesbian comic Ellen DeGeneres. Griffin chatted about those feuds on "Good Day New York."
Broadway legend Patti LuPone took to Twitter Thursday to call out Republican Sen. Lindsey Graham and his sexual orientation.
Jerry Seinfeld would rather cruise in classic cars and sip coffee with comedy's best than reboot his uber-successful "Seinfeld" television series.
A-list celebrities seem to be opening their hearts — or at least their wallets — to Pete Buttigieg.
Kevin Spacey's legal woes are not over, despite the collapse of the only criminal case brought against the two-time Oscar winner since he became mired in sexual misconduct allegations.
Gigi Gorgeous and Nats Getty shared a blissful day at the beach after their spectacular wedding at the Rosewood Miramar Beach in Montecito, CA on Friday.
1 thru 10 of 7452 Stories