Nyle DiMarco, the queer winner of "America's Next Top Model" and "Dancing with the Stars," is the latest celeb to use the popular FaceApp — an app that radically transforms selfies — and his pics are going viral.
Scarlett Johansson says comments she made on the "authentic casting" debate have been taken out of context and asserts that she supports diversity in film.
Remains found in a remote area of Oregon are believed to be of missing actor Charles Levin, who played numerous roles on television comedies such as "Seinfeld" and "Night Court."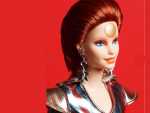 Barbie's now living in a Bowie world, at least for a limited time. Mattel has announced a limited edition Ziggy Stardust-themed Barbie in honor of the 50th anniversary of the David Bowie classic "Space Oddity."
A lawsuit filed by four reality show sisters can proceed against an Arkansas city that released confidential information about their alleged sexual abuse by a brother, a federal appeals court ruled Friday.
Singer R. Kelly, already facing sexual abuse charges brought by Illinois prosecutors, was arrested in Chicago on sweeping federal indictments.
Ed Sheeran has confirmed for the first time that he and long-time girlfriend Cherry Seaborn are married.
After four years together, Olympic skier Gus Kenworthy and boyfriend actor Matt Wilkas have broken up.
Disney Channel has canceled the red-carpet premiere of its movie "Descendants 3" after the death of 20-year-old star Cameron Boyce.
Openly lesbian comic Rosie O'Donnell is hardly reticent when it comes to critiquing the president. Even so, her latest broadside was enough to turn heads.