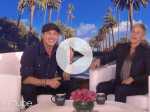 Brad Pitt stopped by "The Ellen DeGeneres Show" this week to promote his new film "Ad Astra" but the two revealed they have something in common: They share an ex!
Sam Smith has declared the pronouns of "they/them" on social media after coming out as non-binary in what the pop star called a "lifetime of being at war with my gender."
Ricky Garcia, of the boy band Forever in Your Mind, has filed a lawsuit against his former manager for repeated sexual assault over a period of years. The accusations include drugging and repeated rape.
New Orleans radio station WWL-AM, the home station of the New Orleans Saints and LSU Tigers, tweeted a homophobic slur directed at one of their own sports reporters, Seth Dunlap, Tuesday. Read the timeline of events and public responses to the incident.
Alec Baldwin was roasted in a Comedy Central Special that will air on Sept. 15 but the network is releasing a clip featuring Caitlyn Jenner who took the time to poke fun of herself, specifically her transition.
There were no flag outfits, but Michael Kors' show for New York Fashion Week was very much a patriotic tribute as he saluted American fashion with a collection that ran from nautical chic to classic glamour-girl gowns to whimsical polka-dot designs.
Runway met Broadway when The Blonds took to the stage of the splashy musical "Moulin Rouge."
Singers Shawn Mendes and Camila Cabello are proving their relationship to skeptical fans...with an interesting video.
"Jersey Shore" cast member Mike "The Situation" Sorrentino is about to regain his freedom.
"Real Housewives of New York" stars Sonja Morgan and Dorinda Medley have received flak for making comments perceived to be transphobic, aimed at trans model Yasmine Petty. Listen to the comments and read Petty's response here.