Not long after it was reported that the gay dating app Jack'd agreed to pay $240,000 for failing to protect users' information, including nude photos, the gay dating app Scruff announced Wednesday that it is purchasing Jack'd.
President Donald Trump can't ban critics from his Twitter account, a federal appeals court ruled Tuesday, saying the First Amendment calls for more speech, rather than less, on matters of public concern.
MAD, the long-running satirical magazine that influenced everyone from "Weird Al" Yankovic to the writers of "The Simpsons," will be leaving newsstands after its August issue. Really.
Eleven-time champion Joey Chestnut says he expects this year's Nathan's Hot Dog Eating Contest to be "a battle."
Body care brand Nivea was fired as a client by its longtime ad firm, allegedly following a Nivea employee's remark that "we don't do gay at Nivea" during a conference call.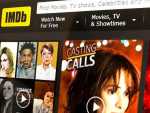 Recently, movie database IMDb has been drawing criticism from activists and trans celebrities for publishing stars' birth names and been accused of a form of deadnaming.
Unlike 1969's Stonewall, disturbances in San Francisco started over job rights. Because the disturbances spread and issues multiplied, they would eventually include at least three bars, including Oakland's White Horse.
Jack Tracy creates web series, films, albums, and now a podcast, all geared toward telling universal stories through an LGBTQ lens. Tracy's podcast, "Community," is a fictional series, but it feels all too real; Tracy tells EDGE all about it.
Televisa is airing the premiere of its new telenovela, "Juntos, El Corazon Nunca se Equivoca" (Together, the Heart is Never Wrong) on Sunday. The series is set to be the first with a gay couple as the leading characters. Watch the trailers here.
Watch Tan France from "Queer Eye" give John Mulaney a makeover attempting to make him more "fuckable."