Thelma
Norwegian director Joachim Trier ("Louder than Bombs") takes a slight diversion into supernatural territory with his new drama, "Thelma." While this might appear to be a sci-fi horror film based on the trailer (and even the "Silence of the Lambs"-inspired poster), this is an enigmatic, yet insightful, drama about the consequences of suppression.

The film centers on a new college student named Thelma (Eili Harboe) who is having a bit of trouble finding her way in a new environment. Based on her daily calls to her mother and father (Henrik Rafaelsen and Ellen Dorrit Petersen) she is very much still dependent on them. This is apparent after they come to visit her and she begins sharing her newfound liberal ideas on a variety of subjects, including religion. Her father doesn't take too kindly to this and tells her how she must think she's better than everyone else just because she is getting an education. This shaming makes her back down, and we become aware of the hold her family has over her.

One day in the school library, however, something unusual happens to Thelma. While sitting alone, a female student named Anja (Kaya Wilkins) sits next to her. Thelma is clearly intrigued by her, and as soon as her curiosity is piqued her hands begin to tremble, birds start flying toward the library windows, and she collapses backward in an epileptic fit. No one can figure out what is wrong with her, so they chalk it up to a one-time experience. But the good that comes out of this is that Anja comes to check on Thelma at the school's pool, and the two begin a friendship... or maybe something more.

As Thelma begins to open herself up to normal college shenanigans like open debate, drinking, smoking, and sexuality, her tremors and odd dreams begin to manifest more often. Once she and Anja really begin to express their feelings for each other, Thelma's possible "powers" spin out of control and a mysterious event occurs. Thelma ends up being studied by doctors and learning a few secrets that have been kept from her, all while she navigates growing up and becoming an independent person.

"Thelma" utilizes the supernatural element well, slowly developing the characters while sprinkling in the weird stuff. And weird it is. And fascinating. It's rare that a film surprises me, but there are two scenes in particular that made me blurt out loud, "WTF?" You can look at this film as a sort of "real life" version of an "X-Men" movie, where a girl who has repressed powers slowly learns what she can do while dealing with a lifelong suppression by her parents.

And it's not just about her parent's religious rules and ideas. Because they have sheltered her and told her their version of right and wrong, they've created a young woman terrified of innocuous things. After drinking two beers at a bar with friends, she actually calls her father in tears because of guilt. What this illustrates is how children who are too sheltered (hello homeschoolers) don't know how to deal with the real world once they are allowed to experience it. It should be a wake-up call to parents who smother their kids, even the ones who don't have repressed supernatural powers.

Trier directs with a steady, slow, and assured hand here. The film is consistently intriguing, and he gets terrific performances out of his entire cast, especially lead Harboe. We see her deer-like tentativeness about the world around her, but we also see her start to open up to all that she has access. We feel her fear, see her strength, and watch as she overcomes years of emotional abuse. Attention should be brought to the lucid cinematography by Jakob Ihre, and the powerful editing by Olivier Bugge Coutté. Both enhance the feeling of Thelma's journey in mesmerizing and unexpected ways.

There is much more than meets the eye here and, in that, it's one of the best films of 2017. It is a hypnotic look at a social and sexual awakening and the power that the shock of it all can engender.
Thelma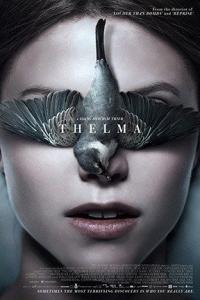 A college student starts to experience extreme seizures while studying at a university in Oslo, Norway. She soon learns that the violent episodes are a symptom of inexplicable, and often dangerous, supernatural abilities.
Info
Runtime :: 116 mins
Release Date :: Nov 10, 2017
Language :: Silent
Country :: Norway

Cast
Thelma :: Eili Harboe
Anja :: Kaya Wilkins
Trond :: Henrik Rafaelsen
Unni :: Ellen Petersen
Thelma, 6 Years Old :: Grethe Eltervåg

Crew
Director :: Joachim Trier
Screenwriter :: Joachim Trier
Screenwriter :: Eskil Vogt
Producer :: Thomas Robsahm
Executive Producer :: Sigve Endresen
Executive Producer :: Eskil Vogt
Executive Producer :: Joachim Trier
Cinematographer :: Jakob Ihre
Film Editor :: Olivier Coutte
Original Music :: Ola Fløttum
Production Design :: Roger Rosenberg
Casting :: Yngvill Haga

Kevin Taft is a screenwriter/critic living in Los Angeles with an unnatural attachment to 'Star Wars' and the desire to be adopted by Steven Spielberg.
Comments on Facebook