The 2019 All Genders, Lifestyles, and Identities Film Festival (aGLIFF) Announces Honorees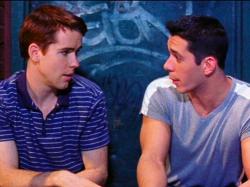 The All Genders, Lifestyles, and Identities Film Festival (aGLIFF) announced this year's aGLIFF honorees for the 32nd edition of the film festival. LGBTQ+ film and television veterans Rose Troche and Jim Fall will both receive aGLIFF's Tribute Award, joining Lisa Donato, who was previously announced (at aGLIFF's SXSW Brunch in March) as this year's aGLIFF Breakthrough Award recipient.
aGLIFF Artistic Director Jim Brunzell, said, "Rose and Jim are wonderful filmmakers that are not simply responsible for some classic LGBTQ+ cinema like "Go Fish" and "Trick," but have also lent their considerable talents to television and virtual reality projects, too. Lisa has been a fixture at aGLIFF, not only with films she has directed, but with films and alongside filmmakers that she has helped steer toward greater heights via her vision. All three exemplify the best spirit of this creative community, supporting other artists even as they push themselves toward their best work."
Fall will be presented with his Tribute Award prior to a 20th Anniversary screening of "Trick" on Saturday, August 24 at the Alamo Drafthouse South Lamar (1120 S. Lamar Blvd), and Troche will receive her Tribute Award prior to a 25th Anniversary screening of GO FISH, on Sunday, August 25. aGLIFF will also present a rare screening of Troche's film, "Bedrooms and Hallways" (1998).
Donato's aGLIFF Breakthrough Award presentation will take place on Friday, August 23. The presentation will feature select screenings of her short films, including "Foxy Trot," "The News Today," "Spunkle," "Sugarhiccup," and "There You Are" as well as select clips from "Signature Move," which she co-wrote, and her upcoming feature directorial debut "Gossamer Folds."
Rose Troche is an award winning writer, director and producer of film, television and new media. Her work on the big screen includes "Go Fish," "The Safety of Object," and "Concussion." Television series include "Six Feet Under," "The L Word," "Vida," and "Sorry for Your Loss." She has also, produced, written and directed "Elliot King Is 3rd," "Sunday at 6," and "Sugar," a limited series. Troche is currently in prep on her 4th feature, "This is Not Me."
Troche has been working in VR since 2014 and has written, directed and produced, "Perspective - Chapter 1," "The Party," "Chapter 2," "The Misdemeanor," and "If Not Love," which all premiered at The Sundance Film Festival. She also made the award winning VR music video, "Runaround" for The Donnies The Amys. In 2016 she was awarded the Sundance Institute Time Warner Fellowship Program Grant for her VR comedy series "LGBTQIA." She is currently in production on "Close Your Eyes," a multi-chapter interactive VR piece about the unfolding nature of violence. Troche is also completing work on "You Can't Look But You Can Touch," an interactive VR experience about homelessness made for the Oculus initiative, VR For Good.
Jim Fall's feature film career started with the acclaimed independent feature "Trick" which premiered at the Sundance Film Festival and the Berlin Film Festival in Dramatic Competition. Released in 1999, it became Fine Line's highest-grossing film of that year. Jim's studio directing debut, Disney's "The Lizzie McGuire Movie," starring Hilary Duff, followed suit as another big box office success.
Fall's TV series credits include episodes of So NoTORIous, VH1's scripted comedy starring Tori Spelling and Zachary Quinto, and Grosse Pointe, the Darren Star-produced comedy series that has since become a cult favorite. Fall also directed the A&E gay marriage TV movie "Wedding Wars," starring John Stamos and James Brolin, produced by Craig Zadan and Neil Meron. He directed and co-wrote "Holiday Engagement" (Hallmark's highest rated Sunday night movie, 2011), starring Shelley Long, Bonnie Somerville, and Jordan Bridges, "Holly's Holiday" (Lifetime, 2012) starring Claire Coffee and Ryan McPartlin, and "Kristin's Christmas Past" (Lifetime, 2013) starring Shiri Appleby and Elizabeth Mitchell. All three Christmas films continue to return every year, playing in rotation during the holiday season. Currently, Jim has written and will be directing "Trick 2," a sequel to his debut classic that will bring the entire original cast back together for more comic and romantic misadventures.
Lisa Donato is an award-winning director, writer, and activist from Billings, MT. Her feature film, "Gossamer Folds," is about two neighbors with unhappy home lives who strike up an unexpected friendship during the summer of 1986. The film marks Donato's feature length directorial debut and stars Alexandra Grey, Jackson Robert Scott, Sprague Grayden, Shane West, and Franklin Ojeda Smith. She's currently directing a DocuSeries about drag culture which will showcase the real lives of drag queens and artists — going behind the makeup, behind the curtain, behind the lives — and will promote the strength, bravery, and passion of fierce performers both new and old across the United States & Canada.
Donato co-wrote the feature film "Signature Move," which world-premiered at SXSW (2017), screened at over 150 festivals worldwide, and can currently be found on Amazon Prime. She's directed six award-winning short films since 2014 and her work is dedicated to people and communities relegated to the margins. She's earned a passionate following by telling stories that don't shy from the unique struggles of women, queer and straight, but focus on the power, resilience, and love they demonstrate in the face of it.
She's also working with actress and recent stroke survivor, Maggie Whittum, on a feature documentary about a group of female artists in Denver with disabilities called "The Great Now What." Her mixed-media project, Hobo Salon, provides free haircuts for Austin's homeless community and collects personal experiences through filmed interviews. Other story credits include shows for National Geographic Wild, Oprah Winfrey Network, PBS, and published personal essays in the LA Times, Self Magazine, Curve Magazine, Austin Women, Whole Life Times, and 5280 Magazine.

ABOUT THE ALL GENDERS, LIFESTYLES, AND IDENTITIES FILM FESTIVAL
aGLIFF
The All Genders, Lifestyles, and Identities Film Festival was founded in 1987 and became a 501(c)3 in 1995. This year we celebrate 32 years of programming for the Austin community. aGLIFF has grown tremendously in size and scope from a short four-day run of four films primarily focused on coming out and AlDS to a multifaceted nonprofit organization with year-round community programs culminating in our annual film festival program with over 100+ films depicting a myriad of issues across cultures, race, immigration status, class, gender identity and expression, age, and religion.
To purchase passes and find more information, please go to: https://www.agliff.org
Comments on Facebook