The Book Of Henry
I'm not exactly sure why early leaked reviews of Colin ("Jurassic World") Trevorrow's new drama have been so bad, but maybe those critics saw a different movie than I did. While it's not the best film of the year and it has some intrinsic issues it can't quite topple, "The Book of Henry" is still a lovely and heartfelt story of a broken family that learns to pick up the pieces of their lives and the lives of those around them.

Perhaps the script by novelist Gregg Hurwitz (which has been kicking around for years) feels too literary, so audiences might not know how to react. To be fair, there's a lot going on. Naomi Watts is Susan Carpenter, a single mother woman-child with untapped writing potential. Her eldest son Henry (Jaden Lieberher) is a "precocious" (his words) genius who takes care of his family as if he's the parent, including handling the finances and watching over his brother. He does so well that his mother doesn't have to work anymore, but she still chooses to work as a waitress at a small diner. Her youngest son Peter (Jacob Tremblay "Room") is the quieter of the boys, who idolizes his older brother. Things are status quo at the Carpenter household, but that doesn't mean things are perfect. Henry clearly has stress in being the caretaker when he should be a child. And even though Susan tells him this, her immaturity forces Henry to take that role.

Meanwhile, the girl next door, Christina (played by Maddie Ziegler, Sia's dancing alter ego), is showing signs of child abuse at the hands of her police captain step-father, Glenn. This is not unnoticed by Henry, who tries to get his school principal to call the authorities. However, politics win the day and Glenn never really gets investigated. This weighs heavy on Henry, who wants Glenn dead. His philosophy is that sometimes violence isn't the worst thing. The worst thing is apathy. So he puts into motion a plan to rescue the girl next door himself.

I won't reveal much more of the plot here, but suffice to say it's never going where you think it is. There's a mid-story tragedy that changes where the plot veers off to, and this is where many critics seemed to have a problem. And yes, it's a little weird because half-way through the movie the whole thing goes from family drama to revenge thriller, with Susan crafting a plan to get rid of Glenn. It seems extreme - and it is - and it does take a bit of a suspension of disbelief to go with it, but that's where audiences need to look deeper.

Henry is a boy who literally has the answers for everything. He is so book smart he can tell you the difference between brain tumors or how to make sure your stocks can sustain your finances for life. Susan trusts in him completely so when he offers a plan to get rid of the abuser next door - a plan that includes murder - Susan goes with it. Reluctantly, at first. She knows it's nuts. But just as we agree with her assessment, we wonder if we're not seeing something that Henry sees. Maybe there's an ultimate plan to it all that will make it all okay. And just how much Henry knows is the question. The plan he puts into effect from his little red notebook is so detailed, he knows when his mom will hesitate or make the wrong choices. But it's a trait we've seen throughout the whole movie, so for him to be doing this during his "big plan" shouldn't come as a surprise.

The end of the film is a little too pat, but it works because of the arc and journey of the characters. And the greatest thing about the film is the characters. These are people we haven't really seen before and we are compelled by them all. I loved hearing what Henry had to say. I was fascinated by Susan's ability to be a great mother but still act like a child. And I loved little Peter and his adoration for his older brother.

Lieberher is the standout here creating a character that doesn't have the movie-kid precocity we see in many other features. He carries a lot of dramatic weight on his little shoulders and does it like a pro. Watts is good, but I've always felt an inauthenticity to her even though I enjoy her work. Perhaps it's her struggle with the American accent, but sometimes her line delivery sounds forced which can make an earnest film like this not work. Tremblay has never matched the heights of his jaw-dropping performance in "Room," but he does have a kick-in-the-gut scene with his mother, not to mention a tear-jerker moment with Henry.

Trevorrow, who got our attention with his indie hit "Safety Not Guaranteed" and then scored with "Jurassic World," has crafted a beautiful film that is part "Radio Flyer" and part "Fright Night" without the vampires. It looks great, and there's a delicacy to it that is heart-warming. His next feature is the final act in the latest "Star Wars" trilogy, and this foray into a smaller film might have "Star Wars" fans nervous, but he is an assured filmmaker and you can tell he's made a film he believes in.

"Henry" is certainly not the travesty some critics would have you think it is. It's not for the cynical and, yes, it is a little bizarre, but there's something utterly compelling about that. You really don't know where the movie is going, and in a summer of blockbusters and studio comedies that hit every story beat you've already seen a million times before, it's a welcome change. "The Book of Henry" might not be an easy read, but it's a satisfying one.
The Book of Henry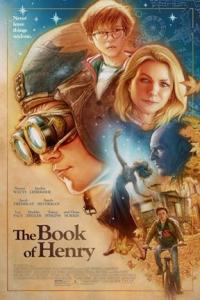 Single mother Susan Carpenter works as a waitress alongside her feisty family friend Sheila. Taking care of everyone and everything in his own way is Susan's older son Henry. Protective of his brother and a tireless supporter of his often self-doubting mother, Henry blazes through the days like a comet. When Susan discovers that the family next door harbors a dark secret, she's surprised to learn that Henry has devised a plan to help the young daughter.
Info
Runtime :: 105 mins
Release Date :: Jun 16, 2017
Language :: Silent
Country :: United States

Cast
Susan Carpenter :: Naomi Watts
Henry Carpenter :: Jaeden Lieberher
Peter Carpenter :: Jacob Tremblay
Sheila :: Sarah Silverman
Glenn Sickleman :: Dean Norris
Dr. David Daniels :: Lee Pace
Christina :: Maddie Ziegler
Principal Wilder :: Tonya Pinkins
John :: Bobby Moynihan

Crew
Director :: Colin Trevorrow
Screenwriter :: Gregg Hurwitz
Producer :: Sidney Kimmel
Producer :: Jenette Kahn
Producer :: Adam Richman
Producer :: Carla Hacken
Executive Producer :: Sue Baden-Powell
Executive Producer :: Nick Meyer
Executive Producer :: John Penotti
Executive Producer :: Bruce Toll
Cinematographer :: John Schwartzman
Film Editor :: Kevin Stitt
Original Music :: Michael Giacchino
Production Design :: Kalina Ivanov
Costume Designer :: Melissa Toth
Casting :: Jessica Kelly

Kevin Taft is a screenwriter/critic living in Los Angeles with an unnatural attachment to 'Star Wars' and the desire to be adopted by Steven Spielberg.
Comments on Facebook