Pop Culturing: Amy Sedaris is Uniquely Amy Sedaris in 'At Home with Amy Sedaris'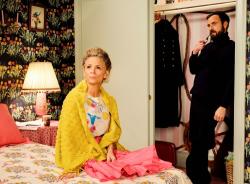 Entering its second season on truTV this week, the part sketch show part crafts/cooking show "At Home with Amy Sedaris" is the perfect platform for its titular star and all her comedic gifts.
After earning an Emmy nomination last year for Outstanding Variety Sketch Program, Sedaris' hilariously deranged show is loaded with star power in its second season, where celebs are perfectly peppered throughout each episode. Everyone from Matthew Broderick, Billy Crudup, Susan Sarandon, Gillian Jacobs, Ellie Kemper, Janeane Garofalo, Rose Byrne and Bridget Everett, Julie Klausner and more show up in "At Home." Of course, Justin Theroux returns to the show as do hilarious out comics Cole Escola and John Early.
Each guest wonderfully plays off Sedaris, who often plays more than one character on her show. Besides being a version of herself as the hostess with the leastess, Sedraris shows up as nosey neighbor Patty Hogg, local drunkard Ronnie Vino and Patty's weirdo daughter Nutmeg. Escola also has a recurring role as Stepford wife-inspired Chassie Tucker. And David Pasquesi's Tony, the Knife guy pops in for special segments; as do Ruth, the Lady Who Lives in the Woods (a wonderful Heather Lawless) and her partner(?), friend(?), Esther (Ana Fabrega).
Amy Sedaris in a scene from "At Home with Amy Sedaris" Season 2. Photo credit: Courtesy of truTV
Not much changes in terms of format from Season 1 — "At Home" still remains a strange and funny show, like Martha Stewart ate too many pot brownies with Snoop Dogg and decided to make a new series after binge watching too many episodes of "Pee-wee's Playhouse." The second season peaks with the episode "All About Amy" in which a crazed and obsessed fan of "At Home," played by the wonderful Rose Byrne, slowly burrows her way into taking over Amy's program.
Sedaris has found a niche lane, carving out a smart space for herself and allowing her talents to shine; she can play multiple characters in one scene and seemly act with her guest stars and with herself. A number of actors have earned praise over the last few years for playing more than one role on the same TV show, most notably James Franco in "The Deuce," Kyle MacLachlan in "Twin Peaks: The Return," and even Zac Galifianakis in the FX comedy "Baskets." Sedaris should undoubtedly be included here as well.
"At Home" is airing at an interesting time in TV history — and at a time when it can benefit from this over-populated landscape. Netflix has attempted to dominate every corner of television and cater to all types of audiences. From standup specials, talk shows/late night TV, sketch comedies, dramas, reality competition, cooking programs, and so much more, the streaming service is working to fill almost every niche interest its users may have. Lately, Netflix has been going after lifestyle programs. After finding great success with the delightful rebooted "Queer Eye," the company's latest hit is "Tidying Up with Marie Kondo," which follows Japanese organizing consultant Marie Kondo. Over eight episodes, Kondo, who rose to popularity for her books about organizing, busts into the homes of couples to help rearrange their space and reduce clutter -- all while politely throwing shade. Like the Fab Five from "Queer Eye," she was instantly memed and became one of the biggest cultural sensations of 2019.
Matthew Broderick and Amy Sedaris in a scene from "At Home with Amy Sedaris" Season 2. Photo credit: Courtesy of truTV
There's also the little-talked about but excellent sketch/baking show "The Curious Creations of Christine McConnell," probably the closest thing to "At Home" anywhere on TV. Part of the Jim Henson company, the series features Christine McConnell, who plays a version of herself on the show but in reality, she gained national attention when she decorated her parents' house for Halloween and the photos went viral. On her Netflix show, she makes elaborate cakes (so incredibly intricate that even a skilled baker may have trouble executing her wild creations) and crafts with her crew of puppet monsters. Think Tim Burton meets Martha Stewart.
Keeping an eye on lifestyle content, Netflix recently announced that Gwyneth Paltrow's lifestyle and wellness company/website goop will be expanding to creating original content for the streaming platform. A new docuseries is in the works, which will consist of 30-minute episodes hosted by the site's editors, chief content officer Elise Loehnen and Paltrow, according to Variety. The company notoriously refuses to share its data — including its viewership — but with the company doubling down on fluffy and easy-to-watch lifestyle programs, there must be a sizable audience of Netflix users who are craving more DYI and wellness shows.
"At Home," of course, is purely satirical. You wouldn't want to decorate your home with any of the crafts she makes or serve any of the food she cooks. Nevertheless, "At Home" is something that only Sedaris could create and it is existing at the perfect time as Netflix continues to pump out earnest and over-the-top lifestyle programs. We are lucky to have the comedian on TV to remind us how silly these shows can get.

This story is part of our special report titled "Pop Culturing." Want to read more? Here's the full list.
Comments on Facebook