"American Horror Story: 1984" is about a month away and the seasons just got another bloody trailer.
The next chapter of FX's "American Crime Story" will dramatize Bill Clinton's impeachment with a focus on Monica Lewinsky, Linda Tripp and other women central to the scandal.
FX's new adaptation of "A Christmas Carol" includes a younger Scrooge and Bob Cratchit and a darker take on the Charles Dickens classic.
"RuPaul's Drag Race" is going across the pond later this year, but fans now know which month they can expect to tune into "RuPaul's Drag Race U.K."
Before Disney films its live-action remake of "The Little Mermaid," ABC will take a crack at it with a live production starring "Moana" actress Auli'i Cravalho as Ariel.
ABC says the cast and crew of "Fresh Off the Boat" are ready to get back to work and put star Constance Wu's anti-renewal tirade behind them.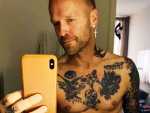 The reality fitness show "The Biggest Loser" is getting a reboot and TVLine reports that out trainer Bob Harper will be back to the series as a host.
Producers for the upcoming "Gossip Girl" reboot say the show won't be as wild as HBO's controversial teen drama "Euphoria."
Pamela Sue Martin, TV's original Nancy Drew, has passed the torch to the actress playing the latest incarnation of the teenage sleuth.
"Wonder Woman" star Gal Gadot is taking on a real-life woman's remarkable history.