Top Story
Returning for its second season on Starz Sunday (or you can binge the entire season via the network's app on Friday), "Vida" is more confident, proud and thrilling t...
1 thru 10 of 2034 Stories
The producers of "Magic Mike The Musical" have cancelled a Boston engagement, saying that they don't feel the musical is ready for production.
In the A.R.T.'s world premiere of a new musical, young Egyptians press for freedom - and see their revolution fail. But that doesn't mean the spark of hope will be extinguished.
The Boston Theater Critics Association held their award ceremony Monday night at Boston's Huntington Avenue Theater. Later the attendees and honorees partied at the New England Conservatory of Music. See who was there.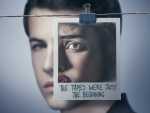 Brian Yorkey's adaptation of Jay Asher's YA novel goes beyond its source material and continues in a second season. But the intensity is waning.
Saturday night's performance of "The Little Mermaid: An Immersive Live-to-Film Concert Experience" at the Hollywood Bowl certainly gave the audience the immersive experience they promised.
If anyone is kicking themselves that they missed seeing the musical "Kinky Boots," relax — it's coming to a movie screen nearby this summer.
One recent afternoon at the Winter Garden Theatre, two stars of the irreverent musical "Beetlejuice" played tour guide and revealed a few backstage secrets — some grosser than others.
Everyone's favorite redhead is swimming back to the iconic Hollywood Bowl this weekend in an all-new Concert event: "The Little Mermaid: An Immersive Live-to-Film Concert Experience."
The operatic version of Margaret Lockwood's visionary 1985 novel "The Handmaid's Tale" was brilliantly brought to life by the Boston Lyric Opera in a production that took place in Harvard University basketball arena.
In The Gold Dust Orphans' uproarious "The Ebonic Woman," Donald Trump gets his comeuppance as only Ryan Landry can imagine.
1 thru 10 of 2034 Stories