President Donald Trump injected racial overtones into the House impeachment inquiry Tuesday by comparing the Democratic-led investigation into his handling of U.S. policy toward Ukraine to a "lynching."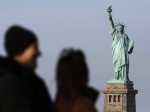 Majorities of Americans agree that diversity strengthens the country and that values such as constitutional rights, a fair judicial system and the American dream are key to the nation's identity. But the poll also reveals some striking divisions.
Florida dramatic arts teacher Monica Toro-Lisciandro says that the taxpayer-funded private Christian school where she taught a class fired her after school officials received a tip from an unknown caller that she is a lesbian.
A new exhibit at the Louvre, opening Thursday and marking the 500th anniversary of the Italian master's death, tries to sketch out as complete a picture of the artist and thinker as possible.
The new season of "She-Ra and the Princesses of Power" premieres next month, but here's an early surprise: The series will now include a non-binary character voiced by a non-binary actor.
Consumers will have more health insurance choices next year under the Obama-era health care law and premiums will dip slightly for many customers, the Trump administration announced Tuesday.
WikiLeaks founder Julian Assange appeared in court Monday to fight extradition to the United States on charges of espionage, saying he needed more time to prepare his case.
A group representing Maine's lobstermen says it's now willing to work with the federal government on a plan to protect right whales after withdrawing its support for the plan this summer.
The United States and the U.K. say they have exposed how a group of Russian hackers hijacked the tools of their Iranian counterparts to attack dozens of countries around the world.
The Weather Channel is moving beyond cold fronts and heat waves to wade into the politics of climate change, with a special planned for early next month that includes interviews with nine presidential candidates on the topic.