Schoolteacher raises of $5,000 are on the table in Texas — a proposed pay hike that ranks among the biggest in the U.S. since a wave of teacher unrest began last year. But protests aren't why the money is suddenly available.
Norwegian officials said Monday they have opened an investigation into why a cruise ship carrying more than 1,300 people set sail despite storm warnings, forcing a major evacuation.
A vintage plane that went from flying passengers in the 1950s to running drugs in the 1970s visited Times Square on Saturday before its next transformation into a cocktail lounge at the former TWA terminal at Kennedy Airport.
Complications and even deaths of several out-of-state women in recent years have spiked concerns over safety of the cosmetic procedures, prompting a bill before the Florida Legislature this year to impose stricter regulations.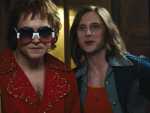 The director of the Elton John biopic "Rocketman" took to Twitter to address rumors that a gay sex scene was cut from the film.
U.S. health officials are taking another look at the safety of breast implants, the latest review in a decades-long debate.
President Donald Trump on Sunday celebrated a "total exoneration" that special counsel Robert Mueller explicitly did not provide in his report on the Russia investigation.
A Southern California company is voluntarily recalling whole avocados over possible listeria contamination.
The director behind the 2018 breakout horror drama "Hereditary" had some choice words to describe upcoming movie "Midsommar."
Apple is expected to announce Monday that it's launching a video service that could compete with Netflix, Amazon and cable TV itself.