This updated interview takes a look at Tom's new video for "Quayside," the new single from his forthcoming album "Territories." Tom opens up about making the video,
When the internet replaced newspapers as a primary way to advertise homes and other property for sale, real estate brokers learned they had to be increasingly strategic about marketing online.
President Donald Trump is misrepresenting the facts when he says the rising stock market has largely benefited working-class Americans.
Sam Smith wants to know "How Did You Sleep?"
The first official trailer for the live-action film version of the musical "Cats" has hit the Internet.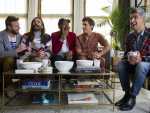 In "Queer Eye" Season 4, which hits Netflix Friday, the Fab Five get a bit personal but the makeover reality show still offers up the same kind comfort TV.
Swiss residents and tourists alike are partying like they haven't since 1999.
Passengers on a Southwest Airlines flight got more than a small bottle of water when they boarded their plane.
Even in the July heat of a French summer, when many are glued to the Tour de France on TV, on vacation, or both, a piping-hot sweat-inducing cassoulet still hits the spot.
The numbers are staggering: An average yearly total of 107 opioid pills per resident were distributed over a seven-year period in this rural Appalachian county.