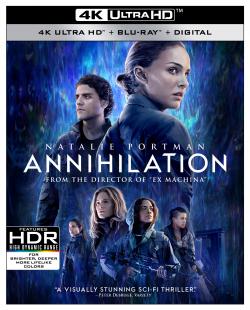 Hailed as "a masterpiece" (Chris Evangelista, Slash Film) and "a mind-blowing experience" (Peter Travers, Rolling Stone), director Alex Garland's (Ex Machina) ANNIHILATION debuts on Blu-ray Combo Pack and DVD May 29, 2018 from Paramount Home Media Distribution. The film arrives on Digital May 22.

Biologist and former soldier Lena (Academy Award® winner* Natalie Portman) is shocked when her missing husband (Oscar Isaac) comes home near death from a top-secret mission into The Shimmer, a mysterious quarantine zone no one has ever returned from. Now, Lena and her elite team must enter a beautiful, deadly world of mutated landscapes and creatures, to discover how to stop the growing phenomenon that threatens all life on Earth. The film also stars Jennifer Jason Leigh, Gina Rodriguez, Tessa Thompson, and Tuva Novotny.

Special Features:

o Part 1 - SOUTHERN REACH
• Refractions - See how director Alex Garland created the tone, textures and color palettes for the various film environments on set.
• For Those That Follow - Listen to the cast's perspective on their roles and learn why they found the story so intriguing.

o Part 2 - AREA X
• Shimmer - See how filmmakers transformed real set locations to create the world of Annihilation.
• Vanished into Havoc - Check out all the action as cast and crew walk you through the mind-blowing stunts and special effects.

o Part 3 - TO THE LIGHTHOUSE
• Unfathomable Mind - Learn why the visual effects are integral to achieving director Alex Garland's overall vision for Annihilation.
• The Last Phase - Listen to the cast and crew share their fondest memories from filming Annihilation.

Facebook:
https://www.facebook.com/AnnihilationMovie

Twitter:
https://twitter.com/AnnihilationMov

Instagram:
https://www.instagram.com/AnnihilationMovie/

Amazon:
http://paramnt.us/AnnihilationsBlu-ray

iTunes:
http://paramnt.us/GetAnnihilationNow

Enter to win!

Thanks for visiting EDGE!
Enter this contest
If you already have an account with EDGE, all you need to do is log in; we'll pull your address information from your account and simply ask you to verify it. If you do not yet have an account with us, register now! It's easy and free, and you'll never have to type in your personal information again. If you prefer to enter this information manually, you can use the manual entry link below.
Register
Manual Entry
Click here for contest rules.
* Please be aware that creating multiple accounts for the same person will disqualify you.