Gay Dallas: The Latest
As a young scholar, Elizabeth Warren traveled to federal courthouses, studying families overwhelmed by debt. She tried to answer one question: Why were these folks going bankrupt?
Authorities say a Los Angeles County sheriff's deputy who said he was shot in a station parking lot was lying.
Former U.S. Rep. Gary Ackerman is being called a sexual "predator" in a lawsuit accusing the New York Democrat of violating a teenager at a Boy Scout camp five decades ago.
Backed by military aircraft, Brazilian troops on Saturday were deploying in the Amazon to fight fires that have swept the region and prompted anti-government protests as well as an international outcry.
Island House hosted a great pool party to kick off this year's Key West Tropical Heat.
Eddie Money says he has stage 4 esophageal cancer. The singer known for such hits as "Two Tickets to Paradise" and "Take Me Home Tonight" says his fate is in "God's hands."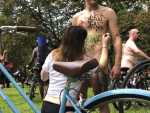 Hundreds of bicyclists gathered in a Philadelphia park on Saturday to disrobe before saddling up and setting off on the annual Philly Naked Bike Ride.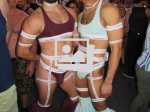 Market Days, The Boystown street festival, had many highlights with Mayor Lori Lightfoot joining Deborah Cox and Sheila E on the Bud Light Stage to dance, and Jake Shears from the Scissor Sisters shutting the night down.
Disney kicked things off with "Star Wars," revealing glimpses of some new footage from "Star Wars: Episode IX — The Rise of Skywalker." The film, which hits theaters Dec. 20, ends the Skywalker saga that began over 40 years ago.
From the economy to veterans and immigration, Trump routinely claims achievements of former president Barack Obama as fully his own or distorts the truth to undermine the Democrat's legacy. On problems uniquely his own, Trump deflects.
The Democratic presidential field is shrinking but not quickly enough to ward off the prospect of a long, bruising fight for the nomination.
The series turned Starz into a must-watch cable network for many viewers, proved 50 Cent's instincts correct and along the way turned its characters into internet sensations and, in some cases, household names.
The National Education Association's latest salary data estimates the average public school teacher in the U.S. saw a 2% pay raise over the past two years since the national Red4Ed protest movement spread across the U.S.
A healthy population of red-legged frogs is hopping in Yosemite National Park, helped by a reintroduction program with the San Francisco Zoo.
What I learned, besides fascinating facts about rabies, its transmission and the horrible ways one can die from it, was that any one of us is a mere cat scratch away from financial peril if we aren't lucky enough to have good health insurance.
President Donald Trump is misrepresenting the facts about his proposal to freeze Obama-era fuel economy requirements at 2021 levels.
A Kentucky print shop owner who refused to make a gay pride T-shirt argued before the Kentucky Supreme Court that he shouldn't be compelled to promote messages that go against his religious beliefs.
Scientists are testing how pharmaceutical-grade MDMA can be used in combination with psychotherapy to help patients with a severe form of PTSD that has not responded to other treatments.
VACAYA's inaugural cruise offered a catch-all for queer travelers. Here's one guest's experience of his week at sea.
For its 22nd year, the event is expected to attract more than 30,000 LGBT park-hoppers from California and all over the country. They will enjoy Disneyland in a way that it can only be experienced during Gay Days.