The Army National Guard is looking for nearly 5,000 fitness instructors and buying roughly $40 million in workout equipment in the next seven months to help its soldiers meet new physical fitness standards being set by the military service.
Swimsuit season is around the corner! Conor Sloan kicks off this six-week ab workout to help build and strengthen your core.
Take a look at the winners of the Mumbai Shree 2019 Men's Physique Competition!
Grant Holloway, a world leader in both the 60m and 60m hurdles, had a busy day back home in Gainesville, Florida, earlier this month.
Fitness model Hagen Richter shares his intense chest workout routine.
In popular culture, a battle of the sexes usually focuses on societal gender roles. But, there's another battle of the sexes, a biological war waged by the body's immune system.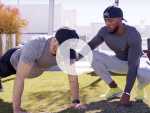 Style influencer Alex Costa partners with a personal trainer to offer 5 at-home exercises to get those pecs in shape for spring.
International model Daniel Maritz offers his tips on how to stay in shape.
Fitness expert Funk Roberts addresses some of the common mistakes men over 40 make when trying to get fit.
Fitness expert BJ Gaddour offers a quick workout to keep those arms pumped!