Top Story
Richard Madden donned a James Bond-esque white tuxedo at the Cannes Film Festival, but the actor shrugged off any 007 rumors.
A bleak yet compelling look at mankind's fruitless search to find a place to call home.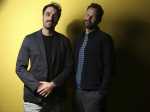 Some stars and directors come to the Cannes Film Festival by boat, others by private jet. Michael Angelo Covino and Kyle Marvin pretty much cycled their way into Cannes.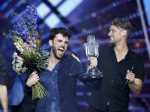 The Netherlands won the 2019 Eurovision Song Contest in Tel Aviv Saturday, with Duncan Laurence's doleful piano ballad "Arcade" crowned champion of Europe's annual music extravaganza.
A large sign warns motorists that Iceland's Fjadrárgljúfur canyon is closed to visitors but drivers keep on coming down the narrow gravel road. A ranger has to explain why no one can pass: The vulnerable landscape cannot sustain more visitors.
Thirty-nine years later, Jack is still not a dull boy. In a new pristine restoration, Stanley Kubrick's "The Shining" premiered at the Cannes Film Festival on Friday evening.