1 thru 10 of 6912 Stories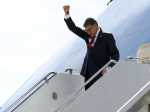 Energy Secretary Rick Perry announced Thursday that he will leave his job by the end of the year, saying that under President Donald Trump the nation is nearing energy independence.
President Donald Trump tweeted it as evidence of House Speaker Nancy Pelosi's weakness. Pelosi raised it as a banner of strength.
After winning the backing of European Union leaders for his new Brexit deal , Prime Minister Boris Johnson was in London Friday looking to secure enough support to get the deal through the fractious British Parliament.
President Donald Trump tried to turn impeachment rancor into a political rallying cry Thursday, using a Texas rally to bash Democrats as "crazy" and unpatriotic as they push forward with their investigations.
Of the many ways the 37-year-old mayor of South Bend, Indiana, is different from his better-known rivals, there is this: His ingrained emotional restraint in a show-all-tell-all era.
President Donald Trump's suggestion that his Miami golf resort host next year's Group of Seven summit became a reality Thursday, sparking an outcry from critics.
The White House acknowledged Thursday that President Donald Trump's decision to hold up military aid to Ukraine was linked to his demand that Kyiv investigate the Democratic National Committee and the 2016 U.S. presidential campaign.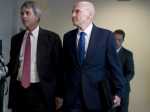 A former top State Department aide testified in the impeachment inquiry that the Trump administration's politicization of foreign policy contributed to his resignation.
Trans rights advocate Ashlee Marie Preston was showcased in an Elizabeth Warren campaign video recently, declaring herself "not afraid of the fight." Now she's got one with the mergence of racist and homophobic tweets from years ago.
One of four Kansas legislators who made headlines last year by defecting from the Republican Party is running for the U.S. Senate as a "pragmatic" Democrat, entering a race in which some GOP leaders are worried about Kris Kobach's chances.
1 thru 10 of 6912 Stories