Gay Dallas: The Latest
If this basketball thing doesn't work out for Brad Stevens, he already has a backup plan in mind.
Going after four Democratic congresswomen one by one, a combative President Donald Trump turned his campaign rally into an extended dissection of the liberal views of the women of color.
"It: Chapter Two" is not taking it easy on the grown losers' club if the new trailer is any indication, and the shoot itself doesn't sound much calmer than battling a demonic clown either.
Dust off your Captain Marvel cosplay, San Diego Comic-Con is here.
No votes have been cast in the Democratic presidential nominating contest, but the winnowing has begun.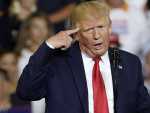 President Donald Trump has placed racial animus at the center of his reelection campaign, and even some of his critics believe it could deliver him a second term.
Prosecutors dropped a case accusing Kevin Spacey of groping a young man at a resort island bar in 2016.
Janet Jackson and rappers 50 Cent and Future have been added to the lineup for the Jeddah World Fest, the concert in Saudi Arabia that Nicki Minaj pulled out of after human rights organizations urged the rapper to cancel her appearance.
Alabama Senate candidate John Merrill has drawn criticism for telling prospective supporters that "homosexual activities" on television are a sign of cultural decline, and for criticising the "socialist agenda" that's being advanced by democrats.
A gay British man has taken to social media to call out the group of thugs who he says brutally beat him and left him in the street after he confronted them about their having hurled anti-gay verbal abuse.
Israel's education minister has apologized for controversial remarks about homosexual "conversion therapy" and intermarriage among Diaspora Jews that drew widespread criticism in Israel and the U.S.
Dallas, TX
The All Genders, Lifestyles, and Identities Film Festival (aGLIFF) announced this year's aGLIFF honorees for the 32nd edition of the film festival.
Daniel Nolasco' throughly entertaining documentary will appeal to any gay man regardless of the fact that they have never ever thought of joining the leather community.
Newly released federal data shows how drugmakers and distributors increased shipments of opioid painkillers across the U.S. as the nation's addiction crisis accelerated from 2006 to 2012.
The top finance officials of the Group of Seven rich democracies are arriving at Chantilly, in a chateau north of Paris, at the start of a two-day meeting aimed at finding common ground on how to tax technology companies and other issues.

Here are four beach destinations where you could soak up the sun using points and miles.
Colonial-era Korean laborers are seeking a court's approval for the sales of local assets of their former Japanese employer after it refused to comply with a court order to compensate them for forced labor decades ago.
A poll of 2,000 Americans explored the sentimentality around keepsakes and found that 25 percent have held onto a keepsake from a previous relationship, while 43 percent harbor a keepsake from a current partner.
Researchers who have tracked drug use for decades believe the new meth crisis got a kick-start from the opioid epidemic.
Thousands of people have been evacuated from a festival area on a Croatian island after a fire broke out in a nearby forested area.
San Diego held its LGBTQ Pride celebration at Balboa Park with four stages and over 100 performers and community activists.