Top Story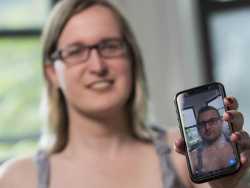 The gender-bending selfies accompanied by flip or sarcastic comments are flooding social feeds since Snapchat introduced a filter this month allowing users to swap gender appearanc...
Singapore's Prime Minister Lee Hsien Loong said Friday that a global call to curb the spread of hate and extremism on internet platforms was an "effective" response to the New Zealand mosque attacks, but stopped short of endorsing it.
U.S. Navy pilots and sailors won't be considered crazy for reporting unidentified flying objects, under new rules meant to encourage them to keep track of what they see.
A U.S. think tank that analyzes misinformation online has found that an Israel-based influence campaign busted by Facebook had stumped for the winning candidate in the February 2019 Nigerian presidential elections.
Efforts to combat the intractable problem of school shootings are starting to shift from preventing the violence to reducing the number of victims through technology that speeds up law enforcement's response.
Researchers have created a way for a smartphone to "hear" a warning sign of ear infections — fluid buildup behind the eardrum.