Top Story
Actor Richard Madden is sheltering in style in a luxurious Los Angeles mansion that costs nearly $25,000 a month to rent... and doing so with a hot quarantine-bud.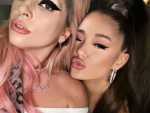 After a week of teasing and hype, Lady Gaga has finally shared her new song "Rain on Me" — her collaboration with Ariana Grande.
The second season of Amazon's conspiracy thriller "Homecoming," which finds Janelle Monáe taking the reins from Julia Roberts, is solid but it should have been its own story rather than a continuation of what came before it.
In the beginning, in the "Star Trek" universe, there was only Captain Kirk. At least to the general public.
The ESPN two-part documentary poses the question of whether Armstrong has a path to redemption, or whether he even deserves one.
Democratic Rep. Ilhan Omar's metamorphosis from refugee to the first Somali-American in Congress has been well-documented. Now, Omar is out with a new memoir that offers her own spin on her path to prominence.