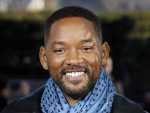 Smith said he is "finally ready" to release the memoir after working on the book for two years. His book will be published by Penguin Press.
The Lionsgate's film starring Ryan Reynolds, Samuel L. Jackson and Salma Hayek brought in $11.6 million domestically to claim the No. 1 spot in its debut.
Gay Days is headed back to Disneyland as the world opens up again. The event is slated for Sept. 17-19.
Cloris Leachman's exquisite swan song is poignant and affecting.
Fifteen months after shuttering for the pandemic, New York's Radio City Music Hall reopened its doors Saturday for the Tribeca Festival premiere of a new Dave Chappelle documentary.