The Lighthouse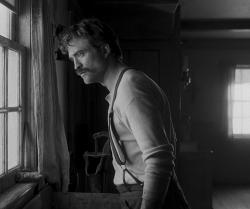 Available digitally today!
- - - --
The next time you want to complain about your job, I dare you to see "The Lighthouse" and then tell me you still feel the need to whine. Ditto, and more so, when it comes to moaning about your roommate.
Rest assured the two central characters in this freakishly odd film - who share quarters as well as lighthouse keeper duties - do not have an easy occupation. And they do not get along. And that's putting it mildly.
Set entirely on a remote island off the New England coast in the 1890s, this mind-fuck of a movie, directed by "The Witch" helmer Robert Eggers, centers on two lighthouse keepers - the only characters in the film (that are real, anyway) - that are stuck with one another for a spell. Thomas Wake (Willem Dafoe) is the irascible, cantankerous elder constantly demeaning his younger co-"wickie," Efraim Winslow (Robert Pattinson), and forcing him to do most of the grunt work, both outdoors and inside the cramped cottage they co-inhabit, which is located adjacent to the lighthouse.
Wake is a blabbering, boozing curmudgeon whose frequent flatulence would irritate the dead. Winslow is more of an enigma, a young man with secrets who wants to keep to himself and would rather not drink alcohol (which pisses Wake off), but follows orders - up to a point. When Winslow shows an interest in igniting the light in the lighthouse, Wake bellows that he is the only "keeper of the light!" We find out why he is so territorial about it later... or do we?
During the first half of "The Lighthouse," you may find yourself frustrated with the film or even notice your mind wandering. Try and focus and stay with the confounding insanity; the payoff is a cinecopia of wildly imaginative, wickedly satisfying moments you won't soon forget.
Robert Eggers co-wrote the script with his brother Max, and they know how to pen cutting dialogue and create dynamic suspense, especially in the second half of the pic when both characters reach their boiling point and Eggers amps up the Gothic horror and Melvillian elements. As a mega-storm brews outside, he adds doses of the otherworldly and surreal as a more psychological storm brews indoors.
"The Lighthouse" is shot in a flat, old-fashioned aspect ratio (1.33:1) and in stark black and white (by ace cinematographer Jarin Blanschke, who loves messing with light and shadows), which helps to create a sinister, creepy, claustrophobic atmosphere. The haunting and nightmarish imagery (borrowed from many literary and film sources including Murnau, Lynch and Kubrick) abounds.
Besides the pacing and meandering of the film's first act, my biggest issue is that too often my attempts to decipher the dialogue proved futile. Use subtitles if you have to, or reloop!
The final reel is absolutely riveting.
The film is a marvy showcase for both actors with Pattinson proving he isn't just another pretty vampire face. When Winslow finally lets loose on Wake there's no stopping Pattinson from going full throttle, and he brilliantly delivers a monologue that is filled with repressed rage.
Dafoe is the personification of a craggy old know-it-all, demanding servitude from this young man because he can do so. But his character has secrets of his own. It's a grandly obnoxious turn, and it's quite effective.
With Awards season upon us, word has it A24 is pushing Pattinson for lead and Dafoe for supporting. This is definitely category fraud. They are both leads. And Pattinson edges Dafoe, IMHO.
Now let me address the twisted sexual tension and off-putting homoeroticism in the film. It's kind of sexy and gross all at the same time. There's a tender slow dance moment, followed by a near-kiss, followed by fisticuffs, followed by a cuddle. And Winslow spends a good part of his time masturbating, with a blend of pleasure and pain. The object of his desire is a mermaid figurine come to life in his fantasies... although he also sometimes sees a blonde guy... One gets the feeling if a few more days went by and the storm subsided, our duo might have ended up doing one another.
"The Lighthouse" is a head-scratching, exhilarating and just damned bonkers work that is richly singular in execution.
Frank J. Avella is a film and theatre journalist and is thrilled to be writing for EDGE. He is also a proud Dramatists Guild member and a recipient of a 2018 Bogliasco Foundation Fellowship. He was awarded a 2015 Fellowship Award from the NJ State Council on the Arts, the 2016 Helene Wurlitzer Residency Grant and the Chesley/Bumbalo Foundation Playwright Award for his play Consent, which was also a 2012 semifinalist for the O'Neill. His play, Vatican Falls, took part in the 2017 Planet Connections Festivity and Frank was nominated for Outstanding Playwriting. Lured was a semifinalist for the 2018 O'Neill and received a 2018 Arch and Bruce Brown Foundation Grant. Lured will premiere in 2018 in NYC and 2019 in Rome, Italy. LuredThePlay.com
Comments on Facebook