Review: Enduring Classic in 4K, 'Shrek' Has Never Looked Better For His 20th Anniversary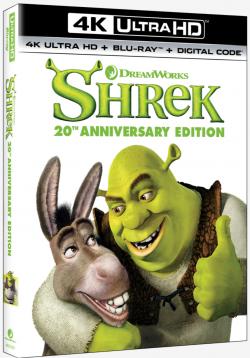 Once upon time...

There was only a single studio in all of Hollywood that held the gold standard for adapting every classic fairy tale into big screen blockbusters — and it (jokingly) really got on the competitors' nerves! Disney had cornered the market on stories involving wistful princesses and the handsome Prince Charmings who often had to come to their rescue. DreamWorks Animation was about to put a dent in the age-old formula with the introduction of a new type of fairy tale hero — one who would make the other studios green with envy!

Marking a milestone, the 20th Anniversary Edition of "Shrek" is available now in the best possible picture quality, bringing the theater experience right to your big screen television. The 4K Ultra HD, Blu-ray and Digital Code Combo Pack presents the timeless animated hit in stunning high definition! The 4x sharper resolution makes Shrek and all the denizens of the fanciful land appear more vibrant and lifelike. The Academy Award-Winning motion picture - the first animated film to win the first ever Oscar for Best Animated Feature - has never looked better.

"Shrek" stars the voice talents of Mike Myers, Cameron Diaz, Eddie Murphy, and John Lithgow, who happily turn the fairy tale animated genre on its head, not directly poking fun at Disney but certainly not pulling any punches while creating truly humorous parody. Our hero Shrek is an ogre who inhabits a swamp and enjoys his solitude, but when the scheming Lord Farquaad (John Lithgow) decides he wants to rid his kingdom of any chaotic "fairy tale" creatures, they have no choice but to seek asylum in Shrek's swamp.

Deciding to take matters into his own hands, Shrek strikes a deal with Farquaad to rescue the Princess Fiona (Cameron Diaz) and, with his trustee Donkey (Eddie Murphy), sets off on a storybook adventure that begins when the pair enter the castle of a fire-breathing dragon and square off against Robin Hood and becomes complicated when Farquaad reveals his true colors. Meantime, Fiona - in search of true love's first kiss - discovers her Prince Charming is not at all what anyone would have imagined. "Shrek" is entertaining for the whole family, and for children of every age — it's one of a kind!

The 4K Ultra HD 20th Anniversary is packaged with a bonus disc that includes over four hours of additional features and full-length animated adventures starring many of the "Shrek" universe cast of characters. Thrill to the exploits of Puss in Boots, and Shrek and Donkey enjoying holiday cheer — it's "Shrek" for every holiday! "Shrek," the 20th Anniversary 4K Ultra HD, Bu-ray, Combo Pack, is just the first in the franchise favorite and fans will only hope that the rest of the films in the series will get the proper upgrade.


"Shrek" - the 20th Anniversary Edition is available now on 4K Ultra HD, Blu-ray on Digital for $24.99.
Native New Yorker JC Alvarez is a pop-culture enthusiast and the nightlife chronicler of the club scene and its celebrity denizens from coast-to-coast. He is the on-air host of the nationally syndicated radio show "Out Loud & Live!" and is also on the panel of the local-access talk show "Talking About".
Comments on Facebook