Review: Revisit 'For Those Who Think Young' to Catch the Film Debut of Ellen Burstyn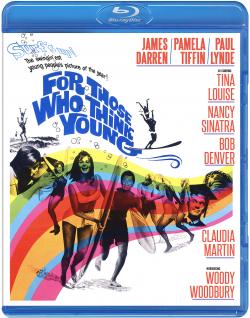 In 1964, beach party movies with a pop infusion were in full swing and so were generation gap comedies. United Artist tried to blend the two, with middling results. "For Those Who Think Young" is a rather anemic little pic that proves watchable because of the cast — especially a young Ellen Burstyn.
Rich college kid Gardner Pruitt III (James Darren), known as "Ding," crushes on gorgeous and smart Sandy Palmer (Pamela Tiffin), much to the ire of his wealthy grandfather (Robert Middleton), who will do what he must to sabotage things.
Meanwhile, Sandy's Uncle Woody (Woody Woodbury, playing himself) and his "companion," Sid Hoyt (Paul Lynde) become enmeshed in a college bootleg scandal, which Dr. Pauline Swenson (Ellen Burstyn as Ellen McRae) is secretly investigating.
Oy.
Amid the silly plot machinations, there are plenty of swimsuited guys and gals dancing on the beach and in Woody's club on campus, and even some (poorly staged) surfing.
Directed with little flair by Leslie H. Martinson ("Batman: The Movie," "Fathom," and a ton of episodic TV) from an innocuous script by Dan Beaumont and James & George O'Hanlon, "For Those Who Think Young" has some energy and verve, but not much else. The title is misleading, and the entire plot predictable.
But the cast is fun, despite a lead that looks way too old to be playing 20 (Darren was 28 and looked it) and a central romance that is not very exciting.
Tiffin, so good in Billy Wilder's "One, Two, Three," does what she can with a one-dimensional part. I always wondered why she didn't go on to a more stellar career.
Woodbury was apparently well known for best-selling "blue" comedy albums, and this film tried to capitalize on that. Too much of the narrative, in fact, is bogged down with rather dismal stand-up material I can only imagine was his.
Two "Gilligan's Island" stars appear here, thought they don't share any scenes together: Bob Denver and TIna Louise. One wonders if the producers of the series saw an early cut of this film, since the series debuted in September 1964 and "For Those" opened in June of the same year.
Poor Louise is wasted in an exploitative role, while Denver has some fun comic moments with Nancy Sinatra (in her film debut). Claudia Martin, Dean's daughter, also appears in a smaller part.
Frank Sinatra, incidentally, bought the rights to the film, which was originally going to star Ann-Margret in the Tiffin role.
Lynde, coming off his success in "Bye Bye Birdie," does his shtick, and is coupled with Woodbury in a relationship that screams "Gay!" Never too obvious (okay, a little obvious), the couple even sleep in the same bed in one scene. It's rather hilarious to watch.
The real discovery here is a young, green Ellen Burstyn showing off her comic chops (something we rarely got to see until "Same Time Next Year," in 1978) in her film debut. She's especially hilarious in a scene where she thinks she's drinking fruit juice and it's... well, not fruit juice.
The only extra is the trailer.
Kino Lorber does another fine job with the transfer here. The boys and girls (really, men and women) look pretty and handsome, and the music is maddeningly hummable — especially the title track, performed by Darren.

"For Those Who Think Young" is available on DVD and Blu-ray on 6/22/21
Frank J. Avella is a film and theatre journalist and is thrilled to be writing for EDGE. He also contributes to Awards Daily and is the GALECA East Coast Rep. Frank is a recipient of a 2019 International Writers Retreat Residency at Arte Studio Ginestrelle (Assisi, Italy), a 2018 Bogliasco Foundation Fellowship, a 2016 Helene Wurlitzer Residency Grant and a 2015 NJ State Arts Council Fellowship Award. He is an award-winning screenwriter and playwright (CONSENT, LURED, SCREW THE COW, FIG JAM, VATICAN FALLS) and a proud member of the Dramatists Guild.
https://filmfreeway.com/FrankAvella
https://muckrack.com/fjaklute
Comments on Facebook