Review: Equal Pay Doc 'LFG' is Funny, Formidable, and Fearless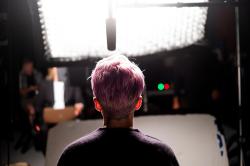 Megan Rapinoe is a badass. So are her U.S. women's soccer teammates, who, while winning numerous championships during a grueling schedule, are fighting for pay equity with their male counterparts. Oscar-winning filmmakers Andrea Nix Fine and Sean Fine's documentary "LFG" interviews the team and their legal representation about the gender discrimination lawsuit against the U.S. Soccer Federation (who, no surprise, declined to be interviewed).
The 100-minute film is as funny, fierce, formidable, and fearless as its interviewees. After all, LFG stands for the team's penchant to affirm "let's fucking go." It's also necessary viewing during this "American Spring" of civil rights, the fights for gender and racial fairness with Black Lives Matter, #MeToo, #TimesUp and many social justice movements currently gaining traction.
The interviewees representing American women's soccer reflect the totality of the sport: Women who work twice as hard for half the pay. The Supreme Court just ruled that the NCAA needs to properly compensate college players, but professional female athletes still don't seem to warrant equality. Many are paid less than waitresses, living paycheck to paycheck and taking second or third jobs. Not only do males get paid more, but they also garner better training facilities, hotels, flights, and more marketing and promotion dollars.
One notes that their uniform shorts didn't fit, there were roaches in their rooms, and they didn't even receive assigned seats on their commercial flights, saying "the little things become big things and you become angry."
Those interviewed agree that they had to make the difficult decision: Should I follow my dream, or take another career to better support myself and my family?
The US women's national soccer team kicks ass to score equal pay for equal work.
Rapinoe, known for her pink hair and famous, open-arms "don't take away my joy" winners' pose, says she is sick of debating her own worth, but that "those facing discrimination don't have the luxury to fuck around."
So the team sued their employer right before the 2019 FIFA Women's World Cup, which they won handily. When mediation failed — U.S. Soccer didn't come prepared with an offer or a compromise — the team had to give exhausting depositions in the middle of a hectic playing schedule. The court case claimed that women are biologically inferior, and therefore not entitled to equal pay.
The tireless players and their allies continue to demand fairness in a dollar for dollar rate of pay: "If you want the world to look a certain way, you have to fight to get there."
Rapinoe reminds film viewers of the stakes when challenging the U.S. soccer establishment: "If they win, no one wins. If we win, everyone wins."

"LFG" streams on HBO Max starting June 24.
Karin McKie is a writer, educator and activist at KarinMcKie.com
This story is part of our special report titled "Streaming Reviews." Want to read more? Here's the full list.
Comments on Facebook