On the EDGE
What has Margaret Cho been up to lately? Watch our exclusive interview to find out, including details about her recently wrapped film, "Fire Island," and forthcoming comedy tour "Fresh Off the Bloat."
Grammy- and Emmy-nominated Margaret Cho joins EDGE for an intimate and live conversation about her groundbreaking career and current projects, including a North American tour, Netflix series "Good on Paper," and forthcoming book.
In this special 'On the EDGE' episode, we welcome the Hetrick-Martin Institute for LGBTQ+ Youth and Hope in a Box to talk about how their organizations are empowering queer youth and strengthening allyship for an inclusive future for all.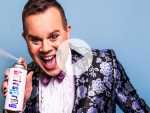 Andrew Levitt aka Nina West joins EDGE for a live interview, where he dishes about the surprise call from Broadway icon Jerry Mitchell, offering him a role in the hit musical 'Hairspray.'
Tina Burner is lighting some of Broadway's biggest hits on fire! Don't miss this upcoming EDGE exclusive, when the "RuPaul's Drag Race" alum dishes about her upcoming "Maybe This Time" tour and love for all things musical theater.
Writer, producer and host Ernest White II ("FLY BROTHER") joins "On the EDGE" to discuss two seasons of the popular globetrotting travel series.
Tune into EDGE's Facebook page Tuesday, July 13 at 1 p.m. and join travel expert Ernest White II ("FLY BROTHER") for a live interview where he'll reveal his favorite destinations and travel tips.
EDGE sits down with Rufus Wainwright to chat about his latest Judy Garland-inspired concert at Capitol Studios, his Grammy-nominated album, "Unfollow the Rules," his return to touring and a possible new musical in the works.
When it came to picking someone to do a new audio commentary for the 40th anniversary Blu-ray edition of "Mommie Dearest," who else but Hedda Lettuce should do it? The NYC drag queen and film buff spoke to EDGE about the film.
Cymbiotika founder Chervin Jafarieh shares ways to achieve optimal physical, mental, and spiritual health.