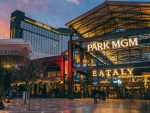 The Park MGM offers an urban oasis that integrates coveted dining venues, A-list entertainment, and a museum-worthy art collection into the typical slot machine dings and rolling dice found along the Las Vegas Strip.
Head to the rolling hills of Berkshire County in western Massachusetts to discover modern luxury, a vibrant cultural scene, and seasonal cuisine that celebrates the local harvest.
Sri Lanka announced Wednesday it will give a one-month free visa on arrival to visitors from nearly 50 countries in its latest effort to revive the island nation's lucrative tourism industry.
When in 2015, the governments of the Mexican state of Jalisco and its capital Guadalajara began a bid to host the Gay Games in 2022, they unwittingly set the city on a path to LGBTQ-awakening.
Research reveals what's hot in summer travel, with Americans expected to spend a whopping $102 billion on summer vacation.
Ski resorts are not just for winter anymore. In an effort to expand revenue opportunities in shortening ski seasons, mountain resorts have started offering more activities for the warmer months.
Gorgeous mountain vistas, eye-catching accommodations, dining options for every palette, sunshine nearly every day of the year, and an LGBTQ presence that makes everyone feel welcome — what more could you want from a vacation?
Here are four beach destinations where you could soak up the sun using points and miles.
Flying from Los Angeles to San Francisco? Patience may be the key during the holiday weekend.
1881 Napa, a wine history museum and tasting salon, opened this month in Oakville, about 60 miles (97 kilometers) north of San Francisco