Recent Photos from EDGE Media Network!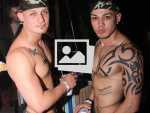 The upstairs/downstairs LGBTQ clubs Ramrod and Machine have closed their doors in Boston without any fanfare. Soon they will luxury apartments. EDGE often covered parties, sponsored events, and special nights over the years. Here are some pics.
Provincetown Carnival attracts somewhere near 80,000 people to the town for the celebrations - something impossible in this year of COVID. The event was scheduled to begin this Friday. Here's a look back at carnival past - part 1 of 2.
With Provincetown Carnival going virtual this week, EDGE fondly looks back at some recent carnivals.
Fire Island remains one of the major summer destinations as the place to relax and party during summer. But this year public events are out, officially at least. Here's a look back at some of them - from drag flotillas to beach parties.
Was it just a year ago? From London Pride to San Francisco street fairs and parties on Fire Island, EDGE looks back at nightlife in July 2019.
After a magical day in Disneyland, thousands packed the Anaheim House of Blues for Kingdom, the biggest party of the weekend. With Kimberly S at the turntables and with a special performance by Well Strung, the night ruled again!
Photographed at the Royal Castle of Amboise, the latest collection by La Métamorphose draws inspiration from the Dark Moon and features all French fabrics.
SF Pride may have been canceled but community leaders Juanita Moore! and Alex U. Inn planned a march along the original Pride route followed by a rally and a second march to the Castro to show support for the black and brown members of the LGBTQ Community