Gay Dallas: The Latest
A female volunteer who regularly feeds big cats was bitten and seriously injured by a tiger Thursday morning at Carole Baskin's Big Cat Rescue sanctuary in Florida, which was made famous by the Netflix series "Tiger King," officials said.
The first commercially printed Christmas card is up for sale — a merry Victorian-era scene that scandalized some who denounced it as humbug when it first appeared in 1843.
Many front-line workers are nervous about hospital preparedness, and many observers are less bullish about the effectiveness of the coronavirus testing and tracing infrastructure.
Days after the discovery and swift disappearance of two shining metal monoliths half a world apart, another towering structure has popped up and then quickly vanished, this time from the pinnacle of a trail in California.
President-elect Joe Biden is adjusting the scope of his agenda to meet the challenges of governing with a narrowly divided Congress and the complications of legislating during a raging pandemic.
A couple were arrested at a Hawaii airport after traveling from the U.S. mainland despite knowing they were infected with COVID-19, authorities said.Kauai Police Department via AP
For a man obsessed with winning, President Donald Trump is losing a lot.
States drafted plans Thursday for who will go to the front of the line when the first doses of COVID-19 vaccine become available later this month.
The White House has shamelessly taken credit for honoring World AIDS Day "in a way that no president has before," according to Press Secretary Kayleigh McEnany.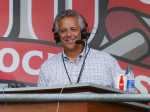 Sportscaster Thom Brennaman is "embarrassed" at having used a gay slur on-air during an August 19 game between Cincinnati and Kansas City.
Sen. Krysten Sinema (D-Ariz.), resplendent in a purple wig and zebra striped shawl, stole the show at the swearing-in of new Democratic colleague Sen. Mark Kelly on Wednesday.
Check out the pics of genderqueer/nonbinary actor Tommy Dorfman (from Netflix's "13 Reasons Why") in and out of the bathtub.
Lemonaids Chief Clinical Officer discusses how Lemonaid is at the forefront of making healthcare more accessible and affordable through its groundbreaking virtual platform.
From skateboarding to Fleetwood Mac to learning Cardi B's rump-shaking choreography, TikTok users got creative in a pandemic year with new songs, dances and memes in 60 seconds or less.
People buying their own health insurance have even more to think about this year, particularly those post-COVID-19 patients with lingering health concerns, the "long haulers," who join the club of Americans with preexisting conditions.
Hyundai and Kia must pay $137 million in fines and safety improvements because they moved too slowly to recall over 1 million vehicles with engines that can fail.

Dark circle under your eyes? A complexion that says you haven't left the house in days (or weeks). We're with you, which is all the more reason to gift yourself or your loved one of the best grooming brands for men on the market.
Does being properly hydrated have a transcendent effect on our lives? According to a new poll, hydration may be the recipe for happiness.
Americans couldn't resist the urge to gather for Thanksgiving, driving only slightly less than a year ago and largely ignoring the pleas of public health experts.
Saturdays at London's Heaven Nightclub are getting a little happier - at least, the meals are. New COVID rules say bars must serve "substantial meals" with drinks, and McDonald's is partnering with the club.