Watch: Meet the Nation's First Married Same-Sex Couple: They Wed in 1971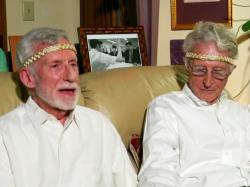 Marriage equality was briefly legal in San Francisco in early 2004, before a ruling by the Massachusetts state Supreme Court cleared the way for same-sex couples to get, and stay, married later that same year. Other states followed Massachusetts' lead, and California even flip-flopped on the issue, with legal marriage being repealed by means of a voter initiative, Proposition 8, that was later found to be unconstitutional in a federal court.
Eventually, the United State Supreme Court found, in 2015, that marriage is a right that cannot be denied to couples of the same gender — a finding that now, after the election of Donald Trump and his appointment of two conservative justices, might still be reversed. (One justice, Clarence Thomas, recently commented on the 2015 case in a way that essentially invited the ruling to be challenged and opened up for reconsideration by the court.)
But long before 2004 — and even before 1996, when a ruling by the Hawaiian state Supreme Court opened the door to marriage equality until a ballot initiative slammed that door shut again and sparked a rush of similar ballot initiatives around the nation — a determined male couple, Jack Baker and Mike McConnell of Minneapolis, managed to get a legally valid marriage license. On September 3, 1971, they tied the knot. They did it, in part, by Jack changing his name to Pat Lyn McConnell — a unisex name that allowed their application to slip by, noted local CBS affiliate WCCO, which aired a segment on the men on June 23.
The legality of their wedding was disputed, but their commitment was not in doubt. The men were already activists in the arena of LGBTQ equality, noted MPR News. McConnell had already joined a Minneapolis-based rights group, F.R.E.E. ("Fight Repression of Erotic Expression") when the couple made their first bid for a marriage license in 1970 — and were denied.
The men fought for their right to be duly recognized as being married, with the Supreme Court eventually refusing to hear their case, MPR recalled.
But after the 2015 Supreme Court ruling — which hearkened back to the couple's case decades before — the two were eventually honored as having been the country's first legally married same-sex couple.
It was a long road; McConnell told MPR, "What we were facing was a society that was quite ignorant. We were seen as predators, sexual beings, not human beings, sinners, insane or sick. All those things were who gay people were defined as during those times."
And not just in "those times," unfortunately; with anti-LGBTQ rhetoric now back in style and getting ever more virulent, those same old lies are resurfacing once more. If there's one thing the LGBTQ community has proven throughout the modern civil rights struggle however, it's that love between two committed people abides.
McConnell and Baker told their inspiring story in a book, "The Wedding Heard 'Round the World," which was published in 2016.
Watch the WCCO news clip below.
Kilian Melloy serves as EDGE Media Network's Assistant Arts Editor. He also reviews theater for WBUR. His professional memberships include the National Lesbian & Gay Journalists Association, the Boston Online Film Critics Association, The Gay and Lesbian Entertainment Critics Association, and the Boston Theater Critics Association's Elliot Norton Awards Committee.
Comments on Facebook