Poll: Younger People Less and Less 'Comfortable' with LGBTQs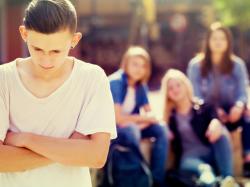 Two and a half years into the Trump presidency, the exclusionary rhetoric emanating from the top might be doing even more damage than feared, if a new poll from GLAAD is to be believed. The really strange part? It's younger Americans — that's right, the younger set — who say they are less "comfortable" with LGBTQ family, friends, and colleagues, reports the Huffington Post.
The trend of declining acceptance among younger Americans is a continuation of a trend that started just after the 2016 elections — and, in its timing, that mirrors skyrocketing rates of anti-LGBTQ state laws, as well as soaring hate crimes targeting gays, lesbians, and, especially, trans people.
The poll asked 1,970 people to weigh in on how they feel about issues ranging from seeing a same-sex couple holding hands to learning that their child has an LGBTQ teacher at school. Other questions asked about how respondents might feel about a family member coming out as gay, learning that someone at the same place of worship is LGBTQ, or having a non-heterosexual physician. The 2018 poll showed an overall decline in acceptance of sexual minorities, and while levels of support among most age brackets stabilized between 2018 and 2019, acceptance in one surprising demographic continued to fall: Those between the ages of 18 to 34.
In fact, the 2019 poll shows an even more drastic loss of support in that age group, despite an all-time high of openness from non-cis and non-heterosexual people, and unprecedented representation in popular media. But at the same time, anti-LGBTQ rhetoric has become sharper and more virulent, and lawmakers from the top on down have stepped up attacks on LGBTQ Americans and their families, in concert with worsening violent rhetoric from religious figures on the extreme right.
Polls in both 2018 and 2019 saw levels of acceptance among younger Americans drop by double digits: In 2017, 63% of those polled who belonged to the 18-34 age bracket had no problem with gay people in just about any context, but as the Trump presidency settled in, support among that age bracket plummeted, reaching 53% in 2018. The 2019 report saw a further plunge, to 45%
The survey was conducted by The Harris Poll, the CEO of which, John Gerzma, told HuffPost, "In this toxic age, tolerance seems to be parsed out.
"Nothing today should be taken for granted."
In comments to USA Today, Gerzma worried that "These numbers... signal a looming social crisis in discrimination." Gerzma pointed to the stark contrast between younger people taking climate change and gender parity to heart even as they seemed to be turning their backs on sexual minorities.
People Magazine reported that the head of GLAAD, Sarah Kate Ellis, issued a statement on the poll results in which she noted, "The younger generation has traditionally been thought of as a beacon of progressive values.
"We have taken that idea for granted," Ellis reflected, "and this year's results show that the sharp and quick rise in divisive rhetoric in politics and culture is having a negative influence on younger Americans and coinciding with a rise in hate and discrimination."
While all other age brackets held steady in comparison to the 2018 poll, the dip in acceptance from younger people seemed to come mostly from women — a further surprise in the numbers. On their own, young women showed a 12% drop in acceptance of LGBTQs between 2017 and 2018, media sources reported.
Said Ellis, "As we commemorate the 50th anniversary of the Stonewall riots, LGBTQ people and allies must urgently address today's cultural crisis by being visible and vigilant."
Kilian Melloy serves as EDGE Media Network's Assistant Arts Editor. He also reviews theater for WBUR. His professional memberships include the National Lesbian & Gay Journalists Association, the Boston Online Film Critics Association, The Gay and Lesbian Entertainment Critics Association, and the Boston Theater Critics Association's Elliot Norton Awards Committee.
Comments on Facebook