1 thru 10 of 1772 Stories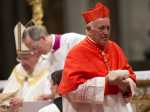 Pope Francis on Saturday replaced Cardinal Ricardo Ezzati, the embattled archbishop of Santiago, Chile, after he became embroiled in the country's spiraling sex abuse and cover-up scandal.
Pope Francis has declined to accept the resignation of French Cardinal Philippe Barbarin, who was convicted of failing to report a known predator priest to police.
A rabbi who packs a gun. A church installing security cameras. A police car protecting a mosque.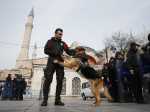 The white supremacist suspected in the mosque shootings that left at least 50 people dead in New Zealand had traveled to the Balkans in the past three years, where he toured historic sites.
The suspected New Zealand shooter carefully modeled his attack for an internet age.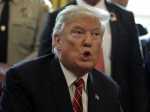 President Donald Trump played down any threat posed by racist white nationalism after the gunman accused of the New Zealand mosque massacre called the president "a symbol of renewed white identity."
Those who watched Brenton Tarrant growing up in the sleepy Australian country town of Grafton say they had no inkling of the potential evil he allegedly unleashed in merciless gunfire at two New Zealand mosques that claimed at least 49 lives.
World leaders expressed condolences and condemnation Friday following the deadly attacks on mosques in New Zealand, while Muslim leaders said the mass shooting was evidence of a rising tide of violent Islamophobia.
A group of activist Roman Catholics asked the United Nations Thursday to revoke the Vatican's observer status for failing to protect the rights of women, children and the LGBTQ community.
The manifesto that the presumed New Zealand shooter published is shorter and "more sloppy" than the one written by a Norwegian right-wing extremist who killed 77 people in 2011, but expresses similar sentiments, a Swedish terror expert said Friday.
1 thru 10 of 1772 Stories