Top Story
Police in Serbia briefly clashed with far-right supporters who tried to prevent a gay pride parade attended by the country's openly gay prime minister on Sunday.
This year's Dallas Pride Parade was so huge that we had to post the photos in two parts. We hope you enjoy part two.
After celebrating for 35 years in Oak Lawn, Dallas moved outside the gayborhood to Fair Pair for this year's 36th Annual Alan Ross Texas Freedom Parade. Spectators came out in record numbers, making this the largest Pride event on record.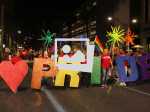 Downtown Las Vegas celebrated its largest Pride yet, with a fabulous nighttime parade and a day and a half of festival fun.
Gay Pride Around the World