Top Story
World-renowned tidying expert Marie Kondo is sparking joy among shoppers feeling the urge to clean out their homes. But once you master the Japanese organizing expert's novel ...
Levi Strauss & Co. is going back to the public markets after 34 years. Here are milestones of this iconic brand whose roots date back to 1853 when its founder Levi Strauss opened his first dry good business.
In 2015, spurred in part by the enthusiastic response their potluck dishes and birthday treats garnered from friends when they socialized, Ryan Alvarez and Adam Merrin started a recipe blog, Husbands That Cook. That's now also the title of their book.
Rosa Ferrigno's new suit takes recycling to an extreme — she knitted it from more than 300 plastic grocery bags.
More and more micro operations have been opening up in recent years, focusing on small batches of quality whiskey. Nobody quite knows when it happened, but today distilleries producing whiskey in Germany outnumber those in Scotland.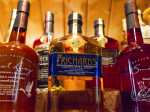 For American whiskey producers, their tariff-induced hangover became more painful in late 2018 when a downturn in exports accelerated, especially in the European Union — the industry's biggest overseas market.