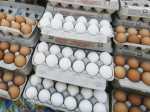 The latest U.S. research on eggs won't go over easy for those can't eat breakfast without them.
The most distinguishing feature of Jamie Adams' new ale isn't its hoppy bite but its compelling backstory — brewed from yeast in bottles of beer that went down on a doomed steamship and languished on the ocean floor for 131 years.
Move over, green beer. Here are three cocktail recipes to celebrate St. Patrick's Day with style.
One in two Americans feels they can't afford to eat healthily, according to new research. A new study saw as many as 55 percent say they feel "forced" to buy unhealthy food simply because it's cheaper.
It's official — a home-cooked meal, a good book, and a glass of wine have been named among the top 20 best things in life for Americans, according to a new study.
DrinkTV is launching into the digital streaming world, offering new and curated cocktail, beer, wine and travel content that aims to do for drinking culture what food-focused programming has done for foodies.
A cheese from Ohio has captured the top spot at the U.S. Championship Cheese Contest in Wisconsin.
Celebrity chef Mario Batali has given up financial stakes in all his restaurants, severing a 20-year business partnership with restaurateur Joe Bastianich more than a year after several women accused Batali of sexual harassment and assault.
Fast-food chain KFC is memorializing a popular Chinese Communist hero with restaurant decor extolling his deeds, in a rare matching of an iconic American brand with Communist propaganda.
It can be hidden in bread, pizza, soup and other packaged foods and restaurant meals. Now, advice to watch out for salt is coming with a more specific reason.