A trade association is suing a Virginia distillery, claiming it is trying to pass off whiskey as Scotch.
Venezuelans like to jest that their beloved arepas are so widely consumed that babies come out of the womb with the corn flatbreads already in hand.
With major news outlets such as The Economist and Forbes declaring 2019 the "year of the vegan", the trend promises to continue.
Some experts seem to agree that the symptoms and circumstances fit the indicators of deaths caused by adulterated alcohol.
Mexicans are dismayed by continued increases in the price for avocados, a staple of the country's cuisine.
After thrusting their arms in victory at the finish line, Tour de France stage winners are greeted by hostesses on the podium. As well as the yellow jersey, the Tour de France race leader is usually handed flowers and a fluffy lion.
New Mexico governor says she's ready for a culinary duel with her neighbors to the north after the governor of Colorado proclaimed on social media that chile grown in his state is the best and will be stocked in grocery stores across four Western states.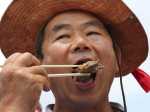 Dozens of people opposed to dog meat consumption, including American actress Kim Basinger, rallied near the National Assembly in Seoul on Friday on one of three "dog meat days" in South Korea.
A national trend of boozeless bars is cropping up nationwide to create social spaces without the hangovers, DUIs and alcoholism culture. It's part of a new push for sober options.
One in three wine drinkers don't know you can drink red chilled, according to research.