Texas' attorney general opened an investigation Thursday into San Antonio's decision to exclude Chick-fil-A from opening airport concession facilities due to the fast-food chain owners' record on LGBT issues.
Avoid fast food, eat vegetables and exercise. It sounds like generic health advice, but they're tips supposedly tailored to my DNA profile.
Could you eat more than three pounds of bacon, 14 tacos, or six large orders of French fries in one sitting? These are just some of the massive snacks Americans claim to have eaten when drunk.
Democratic presidential contender Pete Buttigieg (BOO'-tuh-juhj) says he does not approve of Chick-fil-A's politics but "kind of" approves of its chicken.
Kodak says a new beer hitting the market can be used to develop its Super 8 movie film.
A vintage plane that went from flying passengers in the 1950s to running drugs in the 1970s visited Times Square on Saturday before its next transformation into a cocktail lounge at the former TWA terminal at Kennedy Airport.
A Southern California company is voluntarily recalling whole avocados over possible listeria contamination.
In 2015, spurred in part by the enthusiastic response their potluck dishes and birthday treats garnered from friends when they socialized, Ryan Alvarez and Adam Merrin started a recipe blog, Husbands That Cook. That's now also the title of their book.
More and more micro operations have been opening up in recent years, focusing on small batches of quality whiskey. Nobody quite knows when it happened, but today distilleries producing whiskey in Germany outnumber those in Scotland.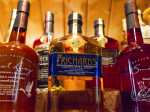 For American whiskey producers, their tariff-induced hangover became more painful in late 2018 when a downturn in exports accelerated, especially in the European Union — the industry's biggest overseas market.