People behind spiked products have operated with impunity, in part because the business has boomed so fast that regulators haven't caught up while drug enforcement agents have higher priorities.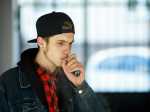 Many people don't know what is contained in these vaping devices, what the reported health effects actually mean, and, most importantly, why all of this developed so quickly, considering that e-cigarettes have only been popular for fewer than 10 years.
Ten years ago, when archaeologists working near the Italian city Modena discovered two human skeletons buried with clasped hands, it wasn't possible to determine anything about who they had been. But now researchers can say this much: They were two men.
With more money — the government had a record $2.4 billion to spend on Alzheimer's research this year — the focus has shifted to exploring multiple novel ways of attacking a disease now considered too complex for a one-size-fits-all solution.
President Donald Trump gets some of his worst marks from the American people when it comes to his handling of climate change, and majorities believe the planet is warming and support government actions that he has sometimes scoffed at.
The acting chief scientist at the National Oceanic and Atmospheric Administration said his agency likely violated its scientific integrity rules last week when it publicly chastised a weather office that contradicted President Donald Trump.
Researchers are beginning to study whether beekeeping has therapeutic benefits. For now, there is little hard data, but veterans in programs like the one in Manchester insist that it helps them focus, relax and become more productive.
U.S. wildlife officials rejected petitions Thursday to protect Yellowstone National Park's storied bison herds but pledged to consider more help for two other species.
Science took a beating in the political arena this past week as President Donald Trump sowed confusion about Hurricane Dorian's path and Democratic presidential candidates rang false alarms about the air we breathe.
Iran on Saturday said it now uses arrays of advanced centrifuges prohibited by its 2015 nuclear deal and can enrich uranium "much more beyond" current levels to weapons-grade material.