Because of the risks involved, this kind of research raises difficult ethical questions. For example, who should be infected? And which pathogens would be too dangerous to use?
The most effective way to fight global warming is to plant lots of trees, a study says. A trillion of them, maybe more.
Human remains from an ancient cemetery in southern Israel have yielded precious bits of DNA that a new study says help prove the European origin of the Philistines — the enigmatic nemeses of the biblical Israelites.
Scientists plan to sail a ship into the Arctic Ocean, anchor it to a large piece of sea ice and allow the water to freeze around them, effectively trapping themselves in the vast sheet of white that forms over the North Pole each winter.
Russian scientists said Thursday that an effort to put nearly 100 illegally captured whales back in open water has been successful so far, but some environmentalists claimed it was badly organized.
Conspiracy theorists took to social media in a flurry of excitement Wednesday after a mysterious flying object resembling an orange fireball streaked across the Florida sky.
Scientists using a gene editing technology called CRISPR have succeeded in eradicating HIV from laboratory mice, reports say. A possible cure remains distant - but it may now be closer than before.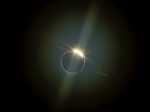 Tens of thousands of tourists and locals gaped skyward Tuesday as a total eclipse of the sun darkened the heavens over Chile and Argentina.
Tens of thousands of tourists flocked to cities and towns across northern Chile to stake out spots in one of the world's best locations to witness Tuesday's total solar eclipse.
Sea ice along northern Alaska disappeared far earlier than normal this spring, alarming coastal residents who rely on wildlife and fish.