Apollo 11 astronaut Michael Collins returned Tuesday to the exact spot where he flew to the moon 50 years ago with Neil Armstrong and Buzz Aldrin.
Egypt on Saturday opened two of its oldest pyramids, located about 25 miles (40 kilometers) south of the capital Cairo, to visitors for the first time since 1965.
India's space organization is examining the technical snag that led to the aborting of the launch Monday of a spacecraft intended to land on the far side of the moon, an official said.
This year is on pace to be one of the hottest on record, again, and the trend may only accelerate as President Donald Trump loosens policies meant to combat climate change. But some investors are attuned to the dangers.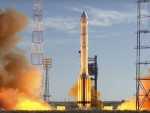 A Russian Proton-M rocket successfully delivered a cutting-edge space telescope into orbit Saturday after days of launch delays, Russia's space agency said.
What did Neil Armstrong really say when he took his first step on the moon?
India is looking to take a giant leap in its space program and solidify its place among the world's spacefaring nations with its second unmanned mission to the moon, this one aimed at landing a rover near the unexplored south pole.
Mission commander Neil Armstrong was the flying ace, Buzz Aldrin the scholar. Michael Collins was a crack test pilot, too, but also a wordsmith who described the trio as "amiable strangers."
Residents of a city in Siberia don't need to fly off to tropical locales for picturesque selfies taken by pristine turquoise waters
Hundreds of millions tuned in to radios or watched the grainy black-and-white images on TV as Apollo 11's Neil Armstrong and Buzz Aldrin set foot on the moon on July 20, 1969 , in one of humanity's most glorious technological achievements.