Gay Dallas: The Latest
The battle lines remain firm in the battle over whether actor should be fired Amar Ramasar from the revival of "West Side Story" as the production pushes towards its opening this week.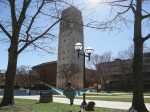 Several former patients have alleged that a late University of Michigan physician sexually abused them during exams, with one accuser saying Dr. Robert E. Anderson's actions over several decades made him a "sexual predator."
Medical schools are beefing up education on LBGTQ health issues. And some schools are making a major push to recruit LGBTQ medical students, backed by research showing that patients often get better care when treated by doctors more like them.
As an extraordinary two-week quarantine of a cruise ship ends Wednesday in Japan, many scientists say it was a failed experiment.
Randy Rainbow found plenty of fodder for his latest video - a musical parody in which the comedian enunciates the latest examples of the president's Trump's increasingly authoritarian behavior to Dua Lipa's "New Rules."
Dwyane Wade continued his rounds of talk shows, taking a caller's question about how he approached the cast of TV's FX drama "Pose" to hear what they might have to tell him about trans issues.
"RuPaul's Drag Race" star Miz Cracker took the challenge of transforming "America's Next Top Model" and "Dancing with the Stars" winner Nyle DiMarco into a stunning drag queen for the queer publication Them.
When it comes to playing the American public, it would seem that even Rush Limbaugh has something to learn from Donald Trump.
"Rocketman" star Richard Madden is causing quite a stir on social media this week after sharing a sexy shirtless selife.
Two decidedly different videos made news today concerning Mike Bloomberg and his attitude towards the transgender community.
Two transgender high school runners want to become defendants in a federal lawsuit that seeks to block them from participating in girls sports in Connecticut.
If you're looking for something irreverent and naughty, "Revenge Song" is your ticket to a fun, raucous evening.
Spain's government approved Tuesday the introduction of new taxes on digital business and stock market transactions, following similar steps by other European countries.
The Massachusetts Institute of Technology has agreed to provide captions for more of its publicly available online videos as part of a settlement announced Tuesday.
When insurers revoke their decision to pay after the service is completed, patients are legally on the hook for the bill.
Nissan shareholders vented their outrage at the Japanese automaker's top management Tuesday for crashing stock prices, zero dividends and quarterly losses after the scandal-ridden departure of former Chairman Carlos Ghosn.
Over a third of Americans have felt judged about their cooking skills, according to new research.
So what exactly is a "close contact"? It's an intuitive-sounding term, but has a clinical definition that varies by infectious disease.
The Points Guy offers tips for navigating the airport for your next vacation.
The 21st Annual Glam Awards celebrates the best of New York City Nightlife, it is also an incredible display of creativity, talent and camaraderie.