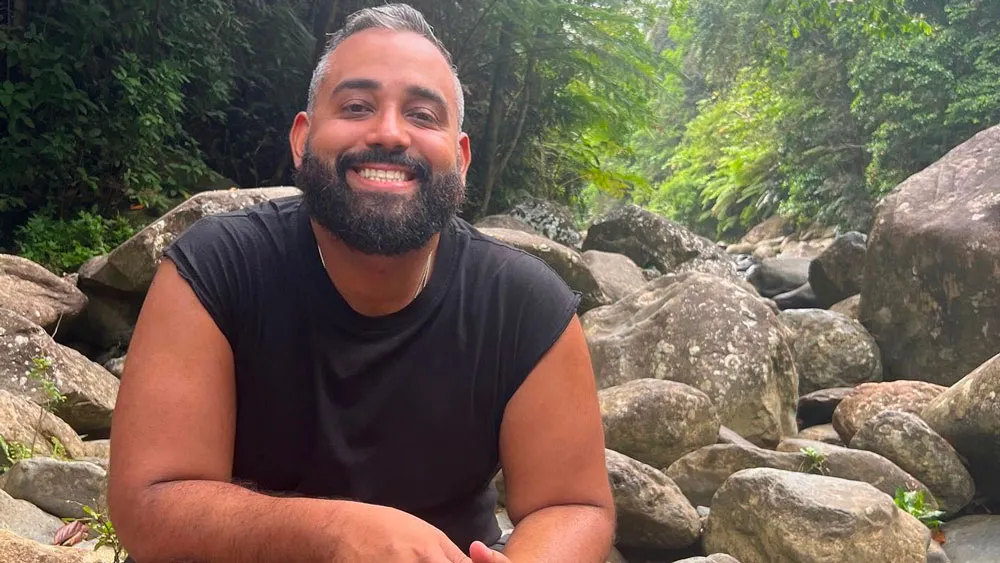 Get to Know Yamil 'Yam Yam' Arocho, 1st Gay 'Survivor' Winner of Color
After 23 years of intense and entertaining reality TV competition, "Survivor" is still going strong on CBS. As the contestants compete in feats of mental and physical strength, the audience learns more and more about their backstories, especially this new era of the show, which is focusing on humanizing its players more than ever before.
Seeing LGBTQ+ competitors succeed is always exciting if you're a queer viewer, therefore we were very excited to see the 44th season's winner Yamil Arocho (called Yam Yam by fellow castaways and fans) take home the cash prize earlier this week. The openly gay Puerto Rican is the first gay person of color to win the show and the first gay man to win since Todd Herzog back in 2007 with Season 15, "Survivor: China."
Arocho has an enthusiasm and a zest for others that really captured the hearts of his cast mates and the people watching the show from home. We wanted to help you get more acquainted with his personal life through his Instagram account.
Arocho celebrates his coronation as the latest winner of "Survivor" by thanking all of the people in his life who helped make it happen. His incredible expressions and happiness show how special the win was for him, and also helps to endear him to the fans of the show even more. People in the comments section made sure to give him his flowers and congratulate him on a season well done. Arocho's hair looks fantastic in the first picture, but this isn't shocking because he is a hairstylist in his daily life when he's not winning massive cash prizes on reality TV!
Arocho does his best impression of Jennifer Coolidge from "The White Lotus" in this photo of him riding on a Vespa in downtown Los Angeles. Vespas are famous luxury scooters that originate in Italy, but they look good being driven anywhere with some sunshine in the air!
Arocho celebrated his second wedding anniversary to his husband in March of 2023. The couple looked happy and meant for one another, and Arocho made sure to write the caption in English and Spanish so fans from Puerto Rico and America could revel in the joy of the event. The wedding took place in Paris according to the location tag on the post. How romantic is that?!
One of the most gripping parts of "Survivor" is its crazy physical challenges. Arocho looks deeply focused on the task at hand in this picture of him pushing a gigantic cube through the water with some of his teammates. Arocho captioned the photo by graciously talking about how being on the show is something he dreamed about his entire life. It's nice to see such a humble man get his chance at success!
After narrowly escaping elimination in the middle of the show, Arocho decided to decompress with a cup of joe in a special mug emblazoned with the logo of "Survivor." He also posted a video of him nearly being voted off, commenting that he's like a cat with nine lives. Resiliency is definitely a trait that pays off in the end!
There's nothing like a drink on the sandy beaches of Puerto Rico to relax on a Sunday afternoon. Yam Yam looks to be enjoying himself in this swoon-worthy shirtless compilation of leisure back in February of 2022, well before the intensity of the show started to climax for fans and participants.
Halloween is a fun time for everyone, but LGBTQ+ people often really get into the spooky season because they can manifest their truest selves without discrimination or hateful comments. Yam Yam looks to be enjoying himself tremendously in this fantastic X-Men outfit that gets him in touch with his youth.
Here Arocho visits Ahau Tulum in Mexico, presumably during a vacation to the country in April of 2021. Tulum is a famous historical and cultural center for tourists with many nods to the history of the Maya tribe. Arocho said it was a must-see experience in the caption.
Yam Yam may not have his own children yet, but he looks like a perfect guncle in this picture of him and his nephew during Christmas of 2019. Hopefully Arocho and his husband can add to the family someday!
Pride season is vital for celebrating the growth and the triumphs within the queer community. Yam Yam is proud to show off a parade he went to during June of 2018 with family and friends. This is a perfect reminder to create your own fun and special memories this June for Pride month!
We go way back to 2015 for this cute photo of Arocho with some friends while on vacation in the Bahamas. It looks like Yam Yam has always found a way to be social and enjoy the world with the people he cares about.
Sometimes "Survivor" can get a little messy, literally and figuratively. Yam Yam recounts the events that led him through a mud trap and into the next rounds of the show. Would you be willing to get down and dirty for immunity?
---