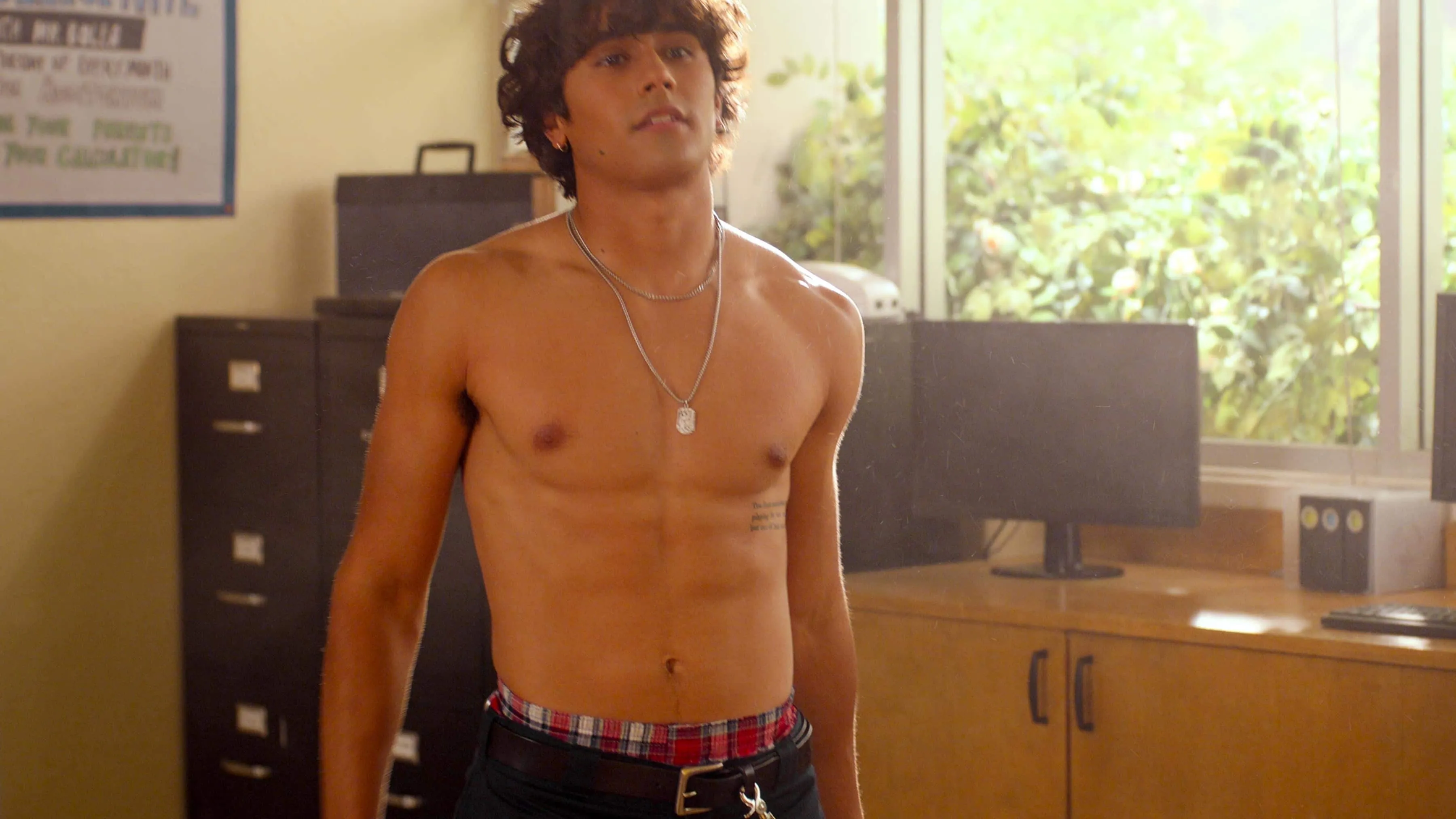 Meet the Hunks of Netflix's 'Never Have I Ever'
If you love teen romance shows with a diverse twist, Netflix's "Never Have I Ever" has been one of the best options on any streaming service since its premiere season in 2020.
Created by Mindy Kaling and starring Maitreyi Ramakrishnan in her breakout role that is sure to lead to even more success in the future, this feel-good sitcom views the high school years through the eyes of Indian-American culture. The main storylines usually revolve around Ramakrishnan's Devi Vishwakumar and her friend circle traversing several different love interests while Devi is dealing with the sudden death of her father during her freshman year of high school and in the three years of school afterward. This means there are plenty of hunky men that enter the picture through the four seasons of the show, and we're here to celebrate and thirst over as many of them as possible.
With this fourth and final season of "Never Have I Ever" hitting Netflix this week, we're taking a look at the handsome men of the hilarious coming-of-age series.
Darren Barnet, as Paxton Hall-Yoshida
Teen romance shows almost always have the prized hunk that every girl in the school wants to date. That character in "Never Have I Ever" is Paxton Hall-Yoshida, portrayed by the gorgeous Darren Barnet. Paxton seems like just a popular bad boy at first, but the writers of the show help to develop and peel back the many misunderstood layers of the character as he becomes an excellent student and a better friend to Devi throughout the four seasons of the show. Paxton has been used in a love triangle throughout the show with Devi and Jaren Lewison's Ben Gross (more on him later). Barnet's charm and kind demeanor pair with his incredible physique to create a package anyone would be willing to risk it all for! We're excited to see where the 32-year-old-actor takes his career next.
Jaren Lewison, as Ben Gross
Ben Gross is the antithesis of Paxton on the surface. Ben is a superstar student who has a scarce social life, a dearth of athletic interests, and an unmatched confidence in the classroom. This makes him an incredible match for Devi throughout the series, and actor Jaren Lewison's chemistry with Ramakrishnan is palpable. As was already mentioned, Ben has been in a love triangle with Paxton and Devi throughout the series and the resolution of that love triangle has been one of the most anticipated events of the final season of the show. Lewison isn't too shabby to look at, either, with a lanky physique and nice amount of hair. Lewison hasn't really appeared in too many other productions early in his acting career, instead focusing on his education at the University of Southern California (USC).
Benjamin Norris, as Trent Harrison
The dim-witted sidekick is such a recurring trope in TV that it can be hard for an actor to carve out a place for a unique character in this space anymore. Benjamin Norris is so talented that he's been able to do just that as Trent Harrison, Paxton's lovable best friend. Trent starts out as nothing more than a failing jokester, but as more of his passions and personality traits come out throughout the show, Norris is able to make Trent more than a one-sided flat character. Trent is dating Eleanor Wong (Ramona Young) throughout most of the back-half of the series.
Sendhil Ramamurthy, as Mohan Vishwakumar
If you're into daddies, it's time to sit up and take notice of Sendhil Ramamurthy, who plays Devi's late father, Mohan Vishwakumar. After Mohan passes away before the plot of the series, he continues to stand tall in Devi's life through flashbacks and other hallucinatory-esque scenes with his daughter. Mohan's calming presence is always there to save the day for his daughter. Ramamurthy is a suave and sophisticated man who is striking in any picture. He's appeared in other shows like "Flash" and "Lucky Man."
Utkarsh Ambudkar, as Manish Kulkarni
Now for some hot teacher representation! Utkarsh Ambudkar plays Devi's teacher, Manish Kulkarni, although he starts getting more screen time in the third season as the boyfriend of Devi's cousin, Kamala (Richa Moorjani). Ambudkar plays a fine line with Manish, as sometimes the character is silly and other times his innermost teacher instincts come out and save the day. Unfortunately, the character was written out of the fourth season of the show. You can also see Ambudkar in the Ryan Reynolds movie "Free Guy."
Rushi Kota, as Prashant
Rushi Kota has an incredible natural handsomeness that pairs with a strong upper body build that makes him a major thirst attraction for viewers. He plays Kamala's first boyfriend in the show, a man who has good intentions but no chemistry with Devi's cousin. Kota has also appeared in shows like "Grey's Anatomy" and "CSI: Vegas."
Anirudh Pisharody, as Des
Devi has a few other love interests in the show besides Paxton and Ben, and we'll close the article with them. Let's start with the beautiful Anirudh Pisharody, who plays high-achieving Indian-American student Des. Devi's family is excited that she's dating a fellow Indian in the third season, but Des' mother isn't so hyped about her son being with Devi. This is one of the most interesting subplots in the third season. Pisharody has also appeared on shows such as "9-1-1" and "Last Man Standing" if you want to see more of him!
Michael Cimino, as Ethan
Last but not least is someone who LGBTQ+ viewers are very familiar with. Michael Cimino plays bad influence Ethan in the first half of the final season of the show. Devi enjoys dating someone who is so daring until she realizes their morals simply don't add up. The one thing that's not in question is how stunning Cimino is! This bright young star is most known for playing the inspiring character Victor Salazar on the Hulu rom-com TV series "Love, Victor."
---